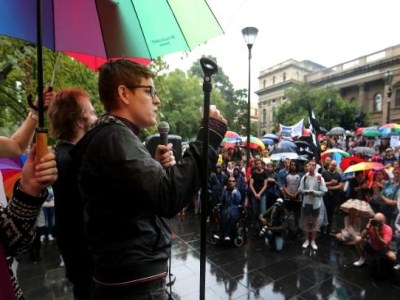 Former Victorian government advisor, Rob Mitchell, claims he was sacked from his role in 2014 for being publicly critical of the former state government over its ­inaction towards preventing homophobia in schools.
However, he now believes Safe Schools has gone too far.
"They are completely out of control," Mitchell – who is a gay rights activist – told The Australian.
"The tragedy in all this is: when I was agitating for money to be put in anti-homophobia programs, the Safe Schools ­Coalition was what I would call a vanilla anti-homophobia program," he said, adding the program has now taken on a markedly radical agenda.
"It seems to have been transformed into this queer theory sort of academic-driven lot of bullshit. As part of that process, they have lost their core constituency, which are parents of school kids. It has been completely hijacked, been derailed.
"Safe Schools is now busted. The brand that is Safe Schools is now indelibly linked to this sort of out-there radical queer theory narrative. It's really out there academic theory about how people construct their gender identity. This is all just academic. We didn't sign up for this."
Mitchell's comments follow the suspension of the Safe Schools program's co-founder, Roz Ward, by La Trobe due to incendiary remarks she made on her private Facebook page.
Ward called for the "racist Australian flag" at state parliament to be replaced with a "red one", prompting an investigation by the university, which resulted in her suspension yesterday.
However, the National Tertiary Education Union (NTEU) Victorian secretary, Colin Long, accused the univer­sity of being "cowed into participating in an anti-intellectual and anti-democratic attack" on Ward.
"We are very concerned that La Trobe University management seem to think that political views should be a ­criterion for employment, as was the case in the Soviet Union," he told The Australian.
The NTEU said it "considers that this is discrimination on the basis of political opinion and will be considering all legal avenues of redress".