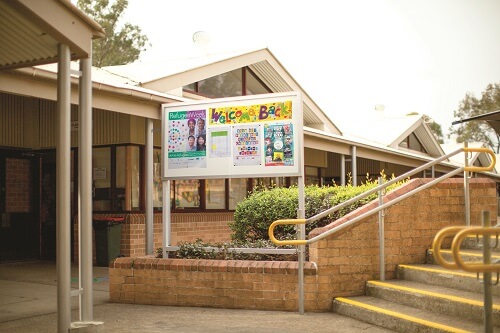 James Erskine Public School has recently boosted its notice board and poster display resources with four premium clip-lockable noticeboards by CIVIQ.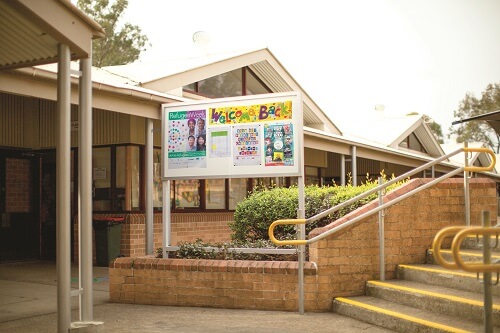 Situated in the Greater Western Sydney region, the public school occupies approximately 600 students from Kindergarten to Year 6.
Staff at James Erskine School recognised that there was a lack of convenient devices in place to disseminate messages to staff, students and visitors, in a secure and protected platform.
They identified a need for robust and economical display system, which would be suitable for both outdoor and indoor applications.
CIVIQ were called on to assist, due to the company's range of Australian-made premium notice and poster display boards, engineered to withstand the demanding environment of the school atmosphere.
The team recommended the FlexiDisplay ClipLok, which features a user-friendly keyless system. The design protects displayed notices from public access with its vandal-resistant features, but can be accessed by administrative staff through the use of a special suction-cup device.
The product offers superior performance with a tough, polycarbonate window, for year-round protection.
Available in ten different sizes, the ClipLok can be either wall-mounted or free-standing, with three diverse styles of stand options available in a number of finish options.
James Erskine School now has four heavy-duty notice board and poster display boards located around the school's campus.
Three of the products are wall-mounted, while a 900 H x 1800mm W freestanding ClipLok has been positioned next to the school administrative office.
The freestanding notice board and poster display has added an improved visual effect for parents, students and visitors, who are exposed to the messages as soon as they enter the grounds.
Corinna Robertson, principal at James Erskine Public School, believes that the ClipLok products have provided a safeguarded area for important school announcements.
"We are pleased with our new notice boards from CIVIQ. Not only do they accommodate enough room for content, but they tie in nicely with the school's landscape" she explained.
The product has since been used to display information on bell times, P&C initiatives, student achievements, as well as scheduled school events and activities.
Related stories:
Why this school is using lockable notice boards
New lockers protect students' personal belongings