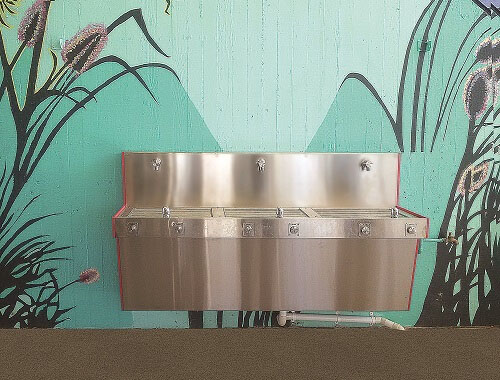 A Sydney school has introduced a new and improved drinking trough for school students.
Davidson High School, located in Sydney's northern beaches has installed the Aquafil drinking trough with the help of CIVIQ, which designs, manufactures, installs and maintains a wide range of products for outdoor and indoor environments.
The decision by the school to find a new drinking trough was motivated by the need to provide enough drinking water access points to accommodate for its large number of students, and to provide a healthy alternative to sugary drinks – whilst saving money and the environment.
To achieve this, the school partnered with CIVIQ to find a solution that would be the most economical and efficient for the school.
The school's facility managers were originally interested in a freestanding unit, before CIVIQ demonstrated that the new Hydrobank would offer a more cost-effective answer to the school's needs.
The Aquafil Hydrobank is CIVIQ's signature drinking trough, engineered with three drinking fountains and three anti-bacterial bottle refill nozzles – great for schools. The product can be configured with an inbuilt filtration system which provides clean, contaminate-free water to users.
The trough is manufactured with a robust, vandal-resistant design for exceptional performance in outdoor playgrounds, with high-density polyenthlyne end-panels available in nine vibrant colours.
Product Designer, Adrian Wilson, is enthusiastic about introducing the state-of-the-art Hydrobank to Davidson High and believes it will be an excellent addition to the school's facilities.
"It is clearly the right product for Davidson High School. With over 800 students, offering multiple access points means that more students can stay hydrated during school hours – and the colours animate the school environment."
Students now have one convenient location for refilling their water bottles or taking a drinki from the bubbler.
Located in the school's quadrangle, the Hydrobank is easy to spot with its bright red end-panels which have significantly brightened up the schools atmosphere.
The all-in-one drinking trough ensures that multiple users can access the station at any one time, and is especially popular during sports and before class time.
The inbuilt filtration system has played a significant role in encouraging more students to drink water and has a role in quenching the thirst of Davidson High students as an alternative to sugary beverages sold in the canteen.
Related stories: