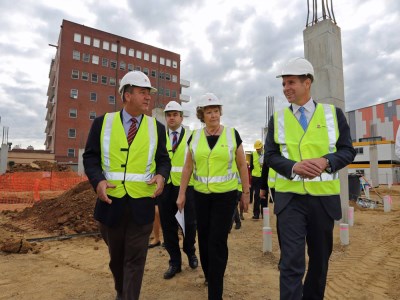 The NSW Government looks set to outsource the maintenance and construction of more than 200 Sydney public schools as it seeks to sell off part of the state's public works program.
The NSW Government is currently seeking expressions of interest over its sale of Construction Services Group (CSG), which is a provider of building construction and maintenance services to other government agencies.
The biggest impact of the sale – part of a suite of reforms to NSW Public Works announced by the Government earlier this year – is expected to be on 250 public schools located in the south-western Sydney region, an area experiencing rapid growth.
The NSW Government announced some services currently provided by NSW Public Works would be transferred, sold, or progressively discontinued, where they can be obtained from mature private sector markets with strong, contested capability.
A spokesperson for the NSW Department of Finance, Services and Innovation told
The Educator
that "a well-developed and capable commercial market" now exists for efficient and cost effective delivery of infrastructure and engineering capabilities, particularly in the Sydney metropolitan area.
"On that basis, in November the NSW Government announced plans to sell the CSG unit and is now in a formal expression of interest process for the transaction and, if viable, will proceed to a sale of CSG in 2016," he said.
"NSW Public Works will retain its core function as a strong informed buyer with advisory and commissioning capability to ensure procured services are risk managed as well as value for money."
In rural and regional areas, the NSW Government said will continue to provide its current level of facility management and maintenance services to schools.
In June, safety concerns over the hiring of external contractors were raised when 26-year-old teacher Stephanie Scott was allegedly murdered by a cleaner who had been contracted to clean Leeton High School through an external company.
Scott's alleged killer, Vincent Stanford, had passed police background checks before beginning work at the Colin Joss & Co cleaning company. According to its website, the company is contracted to clean more than 1,000 schools across NSW.
A spokesman for the
Department of Education
told
The Sydney Morning Herald
that safety checks were "a contractual obligation for service providers" but no further safety checks had been instituted since Scott was killed six months ago.
All school staff, including cleaners, must undergo working with children and department safety checks before they can be employed on school grounds.