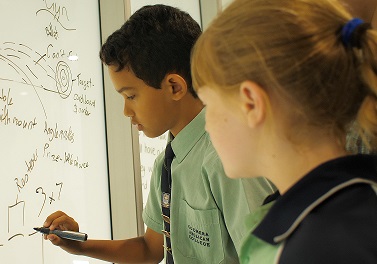 Drone-flying areas, 'Imaginariums' and excursions to Mars are just a few perks of one Gold Coast school's exciting new immersive learning facility, 'The Pod'.
The idea for 'The Pod' was hatched by Coomera Anglican College in 2015, which finished constructing the facility in January 2018.
When students walk into the facility, they are given the chance to explore the pyramids of Egypt, trek through Antarctica and take excursions into space.
The round, two-level facility houses the Imaginarium, ground level Learning Pit, smart glass-lined Think Tank which doubles as an indoor drone flying area, Maker Space housing a bank of 3D printers, plus a Resource Centre and collaborative and group work spaces
The centre features the latest in immersive and interactive technology, designed to take learning out of the traditional classroom, with robotics, interactive touch screen displays, 3D printing, writeable walls, a 360 degree climate-controlled immersive environment, smart glass and an indoor drone flying space, making primary students the architects of their learning.
The climate controlled, 360 degree Imaginarium is the centerpiece of the new learning facility, featuring six laser projectors and cinema quality surround sound creating a seamless 360 degree sensory experience without the need for wearable technology.
Specifically designed for primary students, the climate-control technologies add another dimension to the visual and audio experience to teleport students from the icy cold environments of Antarctica to the sweltering Sahara Desert and even off planet to Mars with the flick of a switch – or more accurately, the wave of a wand. Actual footage is fused with CGI for a realistic and immersive learning experience.
'A first for any educational facility in Australia'
Coomera Anglican College Principal, Dr Mark Sly said The Pod is "a first for any educational facility in Australia".
"We believe it will meet the needs of our students in a rapidly changing technological landscape," Sly said.
"This new facility is supporting the way we're changing our approach to learning which is enquiry-based rather than content-based teaching."
Sly said that the future of education will soon see virtual and augmented reality, robotics, 3D printing, laser cutting and drones as the norm.
"We identified the need for a facility that was flexible enough to move and adapt to change, but also have some key design elements to address some of the current and expected technological advances," he said.
Sly said that with immersive, interactive and collaborative learning environments, The Pod will introduce students to future-focused learning, placing the facility "at the forefront of the new age of education".
"Coomera Anglican College strives to inspire excellence and we believe we have achieved that, and more, by inspiring creativity and imagination in our students' learning – taking it out of this world," Sly said.
Related stories: