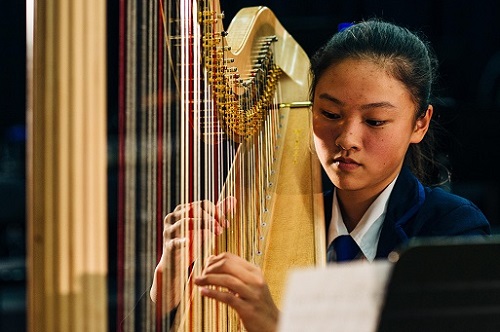 Twenty students from Brisbane Girls Grammar School (BGGS) will soon perform with the Queensland Symphony Orchestra under the direction of an internationally renowned conductor.
The school's Prossima Program, which is part of the school's education partnership with the orchestra, is a project dedicated to developing BGGS' next generation of musicians.
The girl's will perform with the Orchestra in (Not) The Last Night of the Proms, under the direction of orchestra music director, and internationally renowned conductor, Alondra de la Parra at the Queensland Performing Arts Centre (QPAC) on Thursday.
BGGS principal, Jacinda Euler, said the Prossima Program provides students with a rare opportunity to develop their individual skills, gain invaluable insight into the world of professional musicianship and be conducted by one of the world's most inspiring women in music.
"Each mentoring session, and the hours of practice in between, has prepared students to perform at a professional level, on stage with Queensland's only state orchestra, renowned for its breathtaking concerts," Euler said.
"Regardless of whether these students pursue professional musicianship beyond school, they will have gained a deeper understanding of the transformative power of music, with benefits extending beyond the stage and into all areas of their lives."
Year 12 student and Girls Grammar Strings Captain, Olivia Dalton, said playing with the Orchestra allowed her to build on her experience of playing in school ensembles.
"While I have played modified versions of some of the pieces we will perform with the orchestra, it's been a different experience to play them as part of a full-size professional orchestra," Dalton said.
"The pace of the pieces, the quality of the performance and the size of the ensemble mean that we have learned skills and techniques to play to a higher standard and I am looking forward to applying what I have learned during the performance."
As the culminating performance in the partnership between the two organisations, the concert draws inspiration from the British Proms classical music festival, connecting students to a global history of musical performance.
Related stories:
PD forums strike the right chord with teachers
The value of music mentoring for teachers
Trinity graduate achieves an Australian first