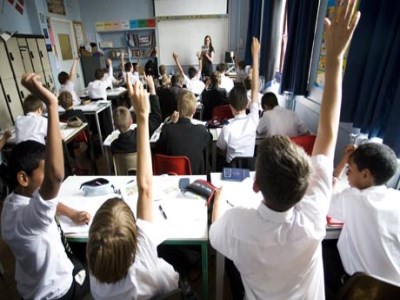 A
recent report
by the Australian Council for Educational Research (ACER) warned that one in five 15-year-olds fail to reach the minimum international maths standards.
The report called for "a new level of cooperation" between governments to address the downward trend, which has called into question Australia's ability to adequately prepare children for the STEM-driven 21
st
century workforce.
To answer this long-standing challenge, various initiatives have been launched to improve student outcomes in the disciplines of mathematics, spelling, literacy, reading and science.
One organisation that is actively doing this is
3P Learning
, whose services help 17,000 schools worldwide create resources that are fully aligned with over a dozen international curricula.
Its programs, such as Mathletics, Spellodrome, Reading Eggs and IntoScience are targeted at improving student outcomes in maths, science, reading and literacy through interactive methods.
3P Learning
CEO
,
Rebekah O'Flaherty, told
The Educator
that Mathletics in particular – as well as the recent studies based on its impact – have shown that the way in which students acquire knowledge and engage in learning is continuously evolving.
"Technology has become a key driver in supporting the need to engage students in new ways and the recent studies have helped us better understand how Mathletics – and of course technology – can provide teachers with a means of doing so," she said.
There have been calls for governments and education departments to recognise that school funding alone cannot improve students' maths and science outcomes.
"The problem is not that Australia is standing still relative to other countries; we are actually going backwards. We ignore these warning signs at our peril," ACER chief professor, Geoff Masters, said.
"Australia has increased spending on schools and seen standards decline ... We cannot keep doing what we have been doing and expect performances to improve."
O'Flaherty said that in order to make a real difference to students' science, maths, literacy and spelling outcomes, schools must evolve in pace with education's changing landscape.
"We believe there's no 'right place' or 'right practice' for driving improved outcomes. There's no one-size-fits-all approach that will have any student or class seeing perfect test results," she said.
"It takes time, patience and really connecting with students to know what's right for them and how to engage and inspire. As education and learning evolves, it is crucial to learning outcomes that we evolve with it."
O'Flaherty said that as these changes continue, technology is likely to play an increasing role in schools for years to come and that innovative teachers will realise the role it can play in improving student outcomes.
"Education has changed immensely over the past 50 years, and even more so in the last 10-15 years. Technology has played a big part in that and will continue to play a major part in it for years to come," she said.
"Innovative teachers will realise the role technology can play in deepening student learning and its value in providing differentiated instruction.
"Every student has different needs and interests and by providing a framework for different learning avenues, outcomes are more likely to be positive for students."