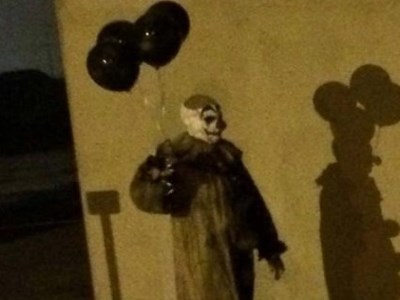 Several schools have increased their staff presence and issued alerts to their students as a bizarre trend sweeps Australia.
People dressed as clowns have caused a scare in many parts of the country, with one recently vowing to show up at more than 20 schools in Queensland's south-east with his masked pranksters.
On Sunday, Facebook user, Franklin Wood – who claims to be "the leader" of the clowns – posted a list of 22 schools that he planned to visit.
People dressed in creepy clown costumes have been sighted in Holland Park, at the Whites Hill Reserve and nearby other public areas in Brisbane's southeast on Friday night.
One Pimpama State Secondary College parent told
The Courier Mail
that she kept her child home from school as "it didn't feel safe", however she added that concerns about the clown fad were "ridiculous".
The school posted to Facebook to inform parents that police had been notified and their would-be staff in the carpark and outside the school's entry from 7.45am and after 3pm.
"Unfortunately there is at least one individual with time on his/her hands and a lack of originality that is making comments about turning up at schools and railway stations," the school said in a statement.
"While I believe the threats to be nothing more than bravado we take the welfare of our students seriously."
Other schools in the state's south-east say there is no need to be concerned but are remaining vigilant.
Calamvale Community College posted a similar message to Facebook, noting that precautions would be taken but there was no cause for alarm.
"If any individuals not associated with the college make a nuisance of themselves or attempt to engage with our students, admin will intervene to ensure students are safe and secure as well as contact the police," they said.
"News reports do not indicate any danger, but the College is ready to support our students and families."
The trend has also caused concern in Victoria, with a Bendigo school principal issuing advice to his students on the matter.
Bendigo Senior Secondary College (BSSC) principal, Dale Pearce, said his school had been made aware of a post online, encouraging people to dress in creepy clown costumes and scare BSSC students.
"We've no idea whether it is a real thing, whether it's a hoax or people mucking around," Pearce told
The Bendigo Advertiser
on Monday.
"But we've issued advice to our students on the matter and we did, as a matter of precaution, contact local police to ask them to be aware of the situation."
'Innocent pranks can turn sinister'
Meanwhile, a social media expert warned that innocent pranks have the potential to become "much more sinister" and even end up with people in jail.
Murdoch University social media and public relations lecturer, Catherine Archer, told the
ABC
, that the trend is often fuelled by people talking about it in real life and on social media.
"The flames get fuelled and it can really spiral out of control," Archer said, adding the trend had taken off quickly in WA with a handful of Facebook groups surfacing, including in Perth and Bunbury.
"I am not surprised at all. You're repelled but you're fascinated, which is probably why it's so popular," she said.
"It's got all the elements ... the fascination with it, the fear factor, the fact that it [was] school holidays and people have time on their hands. For a lot of young people social media is their life."