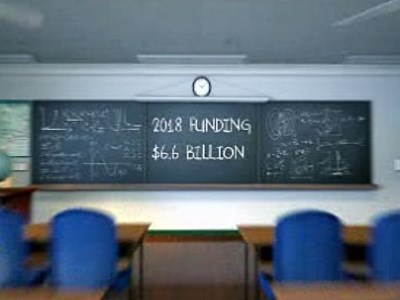 The Victorian government says schools across the state stand to lose more than $500,000 each year after 2019 unless the Federal Government commits to the final two years of the Gonski agreement.
The Federal Opposition said the Turnbull Government's "broken promise" on Gonski will strip Victorian schools of more than $1bn in funding over 2018 and 2019.
"Schools don't need more
Malcolm Turnbull
selfies – they need the Liberal government to provide the funding they promised," Victoria's Education Minister, James Merlino, said on Wednesday.
Last week, Federal Education Minister,
Simon Birmingham
, told ABC's
Lateline
that new funding agreements would be introduced with the states, arguing that existing arrangements had led to "inconsistencies" and "inequities" in schools.
"We expect new funding agreements to exist from 2018 onwards. Funding agreements in between the Commonwealth and the States have historically been done on a four-yearly basis, but if we can strike something longer term, that's great," he said.
"I want to make sure that any future agreement is fair and needs-based, but also focuses on the areas where we can actually achieve changes in the classroom to improve student outcomes."
Last week, the
Australian Education Union
(AEU) announced it would spend $2m on an advertising campaign to pressure the Federal Government to match Labor's $4.5bn school funding
pledge
.
The ads, which began on March 6 and are appearing on TV in Sydney, Brisbane and regional NSW, are being backed up by a broader print and digital campaign.
In a statement, the AEU's federal president, Correna Haythorpe, said that Prime Minister, Malcolm Turnbull, needed to fund Gonski in full, rather than "try and deliver a short-term pre-election fix".
"If Malcolm Turnbull fails to fund Gonski in full, he is failing our kids," Haythorpe said.
"Schools which are receiving Gonski funding are getting the resources for more one-on-one support, smaller classes and targeted literacy and numeracy programs.
"All these things are making a difference to student results and making sure all our kids get the skills they need for work, is an investment in Australia's future, but we need the full six years of Gonski funding to make sure all schools have the resources they need for their students to succeed."