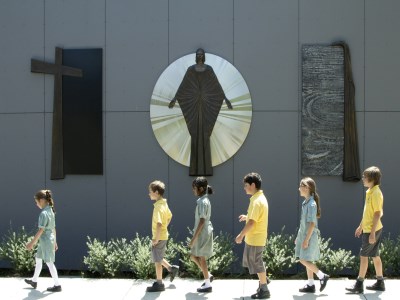 New modelling by a Catholic education body shows there may be big fee hikes if the Coalition's school funding reforms proceed.
The Catholic Education Office Archdiocese of Canberra and Goulburn released the figures on Sunday which showed that Sydney and Melbourne Catholic schools may have to hike fees by $5,000 and $4,000 respectively over the next five years.
The figures showed that the ACT's 21 Catholic primary schools would have to increase fees by at least $1,000 for each child per year, putting more pressure on a school system that says it is already struggling to make ends meet.
However, the Federal Government has rejected claims that its school funding plans are unfair, saying Catholic schools will get an extra $1.2bn by 2021 under the proposed reforms, outlined last week.
Speaking to the Nine Network on Sunday, Federal Treasurer, Scott Morrison, said the funding reforms were aimed at removing "special deals" and creating a fairer model.
"We can't walk away from the principle which says that every child's funding for their schooling should be based on a clear standard. There shouldn't be special deals, there should be one deal," he said.
Meanwhile, Federal Education Minister, Simon Birmingham, said the new modelling released by Catholic schools was "fundamentally flawed".
"I am committed to stopping the school funding wars and I urge all parties to end their scare tactics and stop their campaigns for special treatment," Birmingham said.
On Thursday, the National Catholic Education Commission (NCEC) warned it may be forced to close some of its schools in response to any funding cuts and has called for an urgent meeting with the Federal Government.
"Our fear at present is that the Turnbull government is committed to undermining our ability to provide [an equitable education] for families," NCEC acting executive director, Danielle Cronin, said.
"Families are under fee pressure at the moment … and we believe any increase in school fees will place undue pressure on families and may cause them to withdraw their children from Catholic schools and send them to government schools."

Related stories:
Funding cuts could 'force Catholic school closures'
Govt announces new national school funding plan