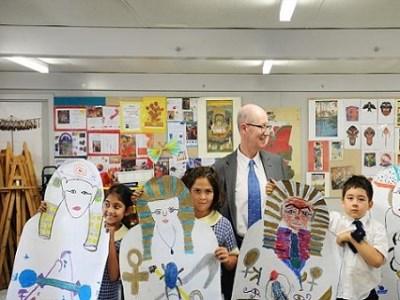 There are valuable lessons that principals can learn from what one north shore school is doing.
When it comes to providing well-being for its students,
John Colet School
excludes virtually nothing in its repertoire. The theme of the school's curriculum is harnessing the potential of the "whole" student, not just their academic abilities.
Founded in 1985 by men and women studying together at the School of Practical Philosophy in Sydney, the co
educational primary school is both multi-faith and multi-faceted, offering studies in everything from meditation and global religions to Shakespearean literature and philosophy.
The school's website describes the advantages that can be seen it its genuine care for the "whole" child – meaning the academic, cultural, physical, moral and spiritual dimensions of children.
"There is a genuine attempt to give children a background in the spiritual systems of both Western and Eastern cultures. The children pause between lessons. They sit still and let their minds and hearts come to rest
," it states.
Dr Adam Fraser, a leading voice in productivity and wellbeing, included John Colet School as a case study in his book,
The Third Space
.
Principal, Gilbert Mane, who Fraser described as "the type of man you'd want as your uncle", explained to his surprised counterpart how his students exercised the same meditative technique Fraser had based his book on.
"Well, the children sit still in their chairs (being children, this is no mean feat), close their eyes and become present. They say a short mantra in Sanskrit and then they have to think about the next activity they are transitioning into," Mane explained.
"We see that this habit of pausing in the gaps as well as doing formal meditation leads to them being able to do tasks in a still but alert state. Our vision for the children is to have them totally immersed and present in life."
The school's philosophy classes offer students what is perhaps their most reflective experience, prompting them to ponder questions such as 'is it possible to discover true happiness?' and 'what is my relationship to my fellow man and to this universe?'
John Colet School's students may be young, but there is no doubt they leave the school gates with a broad and rich perspective of the world that awaits their potential.