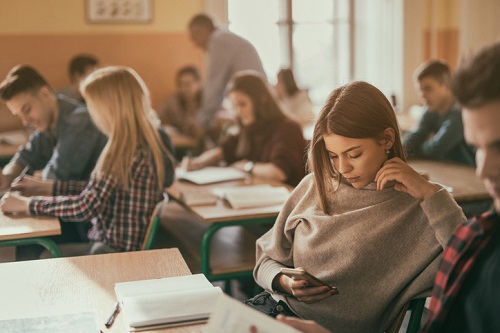 A radical new policy proposed for NSW schools could see students prohibited from bringing smartphones on to school grounds.
However, the 'dumbphone' policy – led by child psychologist, Dr Michael Carr-Gregg – will look into the risks and rewards of social media.
In April, a report by the Office of e-Safety showed a 28% increase in cyberbullying and a rate of 42% of young people saying they've had unwanted contact online.
Dr Carr-Gregg said many schools are acting on these issues without an evidence base, and this is something that should change.
"The French banned mobile phones in classrooms at the beginning of this year. Part of our inquiry will be to see how this is working," Dr Carr-Gregg told The Educator.
"The review will be a look at world-best practice and to make some significant recommendations to principals that are based on science as opposed to anything else."
NSW Education Minister, Rob Stokes, said that while smartphones connect people to the world in ways unimaginable a decade ago, they also raise issues that previous generations have not had to deal with.
"In the classroom and in the playground, smartphones provide opportunities for students and parents to stay connected, but can also create other problems," Stokes said.
Stokes pointed to concerns around screen time, cyberbullying and social media, which he said mean that schools need to have better rules in place to mitigate the issues these raise.
"It is important that we examine parameters around their use in schools to ensure that they are not a distraction from learning," Stokes said.
The review will investigate the risks versus rewards of mobile phone usage inside the school gates.
"Every school I visit has anecdotal examples about the perils or positives surrounding the use of smartphones and other devices in schools," Stokes said.
"Principals are adopting a range of approaches to managing their use, and we want to ensure we provide the best possible advice to help them support their students and parents."
The review will be informed by consultation with parents, students, teachers and principals. Specialist advice will also be sought from local and international experts in the fields of child development, cyberbullying, teaching practice and technology.
Catholic Schools NSW (CSNSW) said today it supported the NSW Government's review into the use of smart phones and other devices by students while at school.
CSNSW CEO, Dallas McInerney, said the review into the use of devices during school hours and their impact on learning and student wellbeing was sensible and necessary given the massive growth in hand-held technology over the past decade.
"It's very timely to review the impact of smart phones and other devices on school students," McInerney said.
"There are undoubted benefits to having technology at your fingertips, but the prevalence of smart phones and similar devices among students while in school has created distractions and threats that did not exist a decade or so ago."
McInerney said it is the responsibility of education leaders to understand how smart phones and other hand-held devices impact student learning and well-being, and to put in place any policies that are needed to help improve these situations.
Federal Education Minister, Simon Birmingham, told Sky News that he welcomes the initiative.
"A few months ago I put on the record that it was my view that personal mobile phones have no place in the classroom," Birmingham said.
"We really ought to have a much better approach and policy. We shouldn't put the pressure on classroom teachers or individual principals to have to set the rules in this regard, that it ought to be a clear consistent policy approach – and I hope that's where the NSW Government goes."
Related stories:
Schools 'ignoring real issue' amid phone ban talk
Calls for smartphone ban in schools