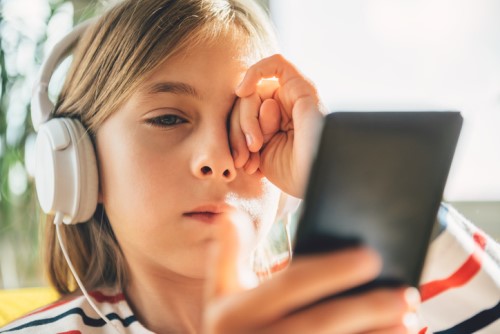 Bans imposed by schools on students' phones are "impractical" in controlling online dangers before, during and after school hours, an expert says.
The proliferation in smartphones in classrooms has sparked debate as to whether they are doing more harm than good to student outcomes, and health.
In September, the NSW Government launched an independent review which looked at the impact smartphones were having on student engagement and outcomes in the classroom.
Three months later, NSW Premier, Gladys Berejiklian and Education Minister, Rob Stokes, announced that from 2019, smartphones would be banned in the state's primary schools to reduce the "distracting influence" they often have on students.
"We are removing a distraction the experts tell us causes anxiety, stress and depression in young people and also introduces the risk of predatory behaviour," Stokes said.
'Schools' phone bans have failed'
However, leading cyber security expert for schools and families, Jordan Foster of YSafe, said many schools which have imposed bans have failed as a result of parent resistance and continued students' motivation to access personal devices.
"Parents have successfully overthrown bans by arguing it is their right to equip their children with devices, wished to contact them for safety and logistics purposes," Foster said.
"Many schools have seen students sell or rent a second mobile phone to other students for use during school hours."
She added that many 4G data bans allow for internet access, rendering the school network obsolete.
"It is naïve to think that banning mobile phones before and after school will be the panacea to issues relating to personal device use. The answer is to provide them with correct training and controlled usage of their mobile devices" she added..
Privacy and cyber security training – backed up by the right tools – are now important components in schools' duty of care in the protection of students, whose parents are pushing for controls to be placed on their mobile devices.
Schools need to change tact
Associate professor Matt Bower of Macquarie University said that even without smartphones, bullies will find other ways to harm their victims.
In the week following the NSW Government's announcement of a phone ban for high school students, Dr Bower said that while bullying is "deeply concerning in all contexts", digital bullying can be more easily tracked.
"If it takes place on a smartphone rather than in the (high school) playground then at least the behaviour is on record and bullies can be held accountable," Dr Bower said
Dr Bower added that when it comes to improving student behaviour and avoiding smartphone distraction, ideally schools would be "helping students develop healthy relational and learning habits instead of automatically forcing mobile phone usage underground."
"Every school and classroom is different, and a blanket ban fails to recognise that the benefits in some contexts may well outweigh the disadvantages," he said.
Screentime 'slowing children's brain development'
One consideration that has persisted through the debate on smartphones is the impact that screentime has on the human brain.
An online technology usage poll, conducted by ABC children's current affairs program, Behind The News, surveyed more than 18,000 young Australians to reveal their technology habits and provided new insights into this issue.
One-in-four young people surveyed admitted they would find it "impossible" to go without digital devices for even one week – a trait that can be associated with Internet Addiction Disorder (IAD).
A more recent study, by the University of Waterloo, the University of Calgary and Alberta Children's Hospital Research Institute, has added to a growing body of research showing that screen time is slowing child development.
The researchers found that children who spent more time with screens at two years of age did worse on tests of development at age three than children who had spent little time with devices. A similar result was found when children's screen time at three years old was compared with their development at five years.
"What is new in this study is that we are studying really young children, so aged 2-5, when brain development is really rapidly progressing and also child development is unfolding so rapidly," Dr Sheri Madigan, first author of the study from the University of Calgary, told The Guardian.