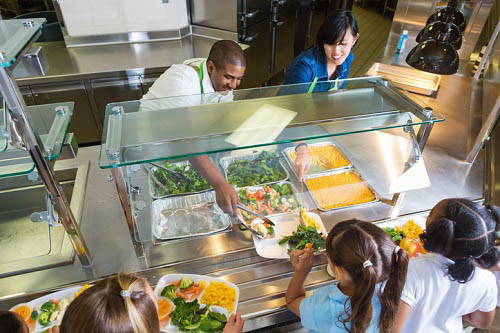 A recent survey has revealed that 57.6% of parents are concerned children may struggle to maintain a healthy weight in life and be at risk of serious disease (51.2%) as a result of poor food choices.
To combat this, the Stephanie Alexander Kitchen Garden Foundation and AstraZeneca Australia are uniting on a pilot project to deliver pleasurable food education to Australian students aged 12–18.
On Monday, three secondary schools in Victoria – Narre Warren South P-12 College, Numurkah Secondary College and Western Heights College – were announced as the first pilot schools for the Secondary Years Kitchen Garden Project.
Stephanie Alexander AO, Founder of the Kitchen Garden Foundation, said the new secondary project will draw on the experiences of the successful Kitchen Garden Program, which has been running in primary schools for 17 years.
"Now secondary school students will have the chance to experience the joys of growing, harvesting, preparing and sharing fresh, seasonal delicious food, just like students in the primary schools running the program," Alexander said.
The company's work began after Australian cook, restaurateur and food writer, Stephanie Alexander, decided to do something about the growing obesity problem in Australia.
The program was motivated by Stephanie's childhood memories of a kitchen garden, her parents' passion for food, and a family culture that focused on the ritual of sharing a meal.
Promoting healthy living, including education on healthy food choices, is a top three priority for parents when they are choosing where to send their children – equal with school ranking (59.9%) and behind location (80.7%).
"AstraZeneca's Young Health Programme aims to work with expert organisations around the world to combine research, advocacy and on-the-ground-programmes to improve the health of young people," said AstraZeneca Australia and New Zealand Country President, Liz Chatwin.
"We are proud to kick-off this partnership with Stephanie Alexander Kitchen Garden Foundation, as we recognise the importance of helping young people to develop healthy food and lifestyle habits to reduce their risk of obesity and non-communicable diseases such as diabetes and heart disease in the future."
Stephanie Alexander Kitchen Garden Foundation CEO, Josephene Duffy, said the new would develop the first curriculum-integrated kitchen garden program model for Australian secondary schools.
"The results of this project will be a kitchen garden program model that any Australian secondary school can integrate with their curriculum, and use to achieve an array of health, wellbeing, learning and community engagement objectives," she said.
"The potential impact of the new project is enormous."