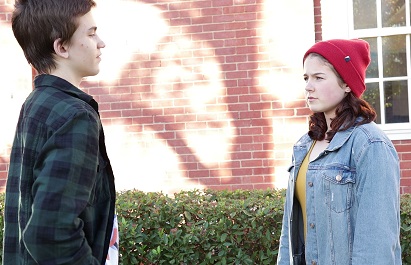 Students at Ivanhoe Grammar School, located in Victoria, have written, cast, filmed and edited four unique short films for their school's second film festival.
In this year's Ridgeway Campus Film Project, the school's Year 8-12 students have chosen the themes of surreal fantasy, romance, film noir and bullying.
The films, which are all under 10 minutes, were created by students in their own time using professional equipment with mentoring from teachers and senior students.
Last year's inaugural Ridgeway Campus Film Project involved one 55-minute film, Art of the Dance, a mockumentary that looked at the development of dance in a rough high school, where students developed their identities (and tolerance) by expressing themselves through performance.
Ivanhoe Grammar School Head of Theatre Shaun Murphy said the students have produced some amazing work.
"As much as possible, all the work is done by the kids," he says. "They've been very dedicated to it," Murphy said.
Members of the public are welcome to attend the Ridgeway Campus Film Project 2018 and meet the students in a post-film Q&A session.
Ivanhoe Grammar School's Audio Visual Manager, Nick White, said the project was born out of theatre studies.
"Last year we had a keen director in Year 11, Demetri Spyropoulos. The project was in a way born out of his passion for wanting to learn filmmaking," White told The Educator.
"Under the guidance of myself and a parent, Scott Moorhen, the students created a 55-minute hilarious mockumentary about a drama teacher faking his way through the academic world with clever subplots of the students navigating a clearly terrible teacher."
White said students who did not fit with many of the other co-curricular activities "grasped the opportunity with both hands".
"It has created a new community of passionate filmmakers," he said.
White said the decision this year to make four short films was due to the keen interest from more and more students to jump into this creative space.
"There has been an increase in the technical engagement this year. Having the four short films has meant that more people can jump on different equipment during production," he said.
"The cast, however, has been intentionally smaller than last year so that students can focus more on their technical skills and less on managing extras."
White said problem-solving is one of the most important skills for students to learn.
"Creating short films on the fly requires so much of this," he said.
"It puts the students in an environment where they need to think on their feet, re-arrange schedules last minute to account for rain, or maybe sick actors! Also learning a technical role in minutes to fill in gaps on particular days. Everyone gets their moment to learn camera, audio and lighting."