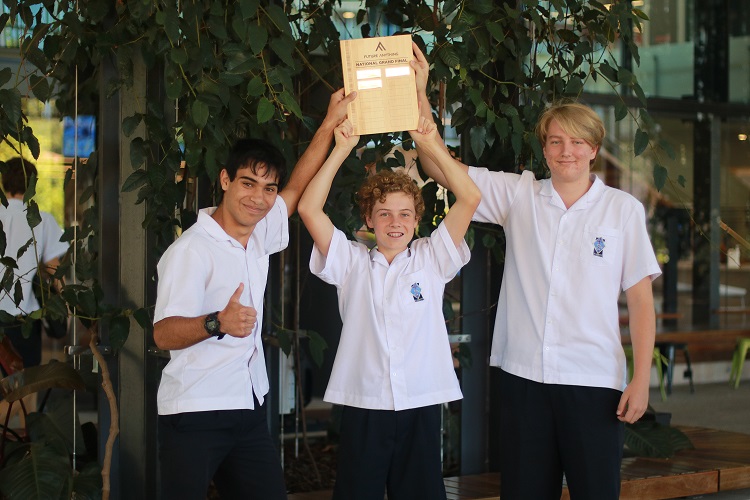 Last month, hundreds of high school students from across Australia gathered virtually before a panel of international expert judges who were tasked with deciding the winner of a national youth entrepreneurship program.
The award-winning 'Activate, Future Anything' program challenges young people to research, develop, and prototype scalable business solutions that make the world a better place.
At the grand final on Friday November 13, students, grouped into teams of 20 and representing 40 schools, pitched their innovative, scalable and sustainable business ideas before Terry Shubkin (Young Enterprise NZ), Tim Walmsley (BenchOn), Natalie Kyriacou (My Green World), Ayush Jain (Start Some Good), Murray Hurps (UTS), and Gerry Higgins (Social Enterprise World Forum).
Taking out top prize was a group of young entrepreneurs from Queensland's St Andrew's Anglican College, who had developed 'Aquashield', a prototype and business model to replace shark nets with a new alternative and sustainable design that is reliable, easy to maintain and built with quality materials that last a lifetime.
Year 9 students, Kiavesh, Ethan and Byron, hope their creation will revolutionise the use of shark nets, leading to a more environmentally friendly and sustainable way of reducing shark attacks on swimmers.
"I've had a great passion for helping the environment ever since I watched my first David Attenborough documentary, it made me realise how amazing the planet is that we're living in today," Kiavesh said.
Kiavesh said the idea came to him whilst watching an episode of Shark Week.
"I saw these terrible images of sharks, rays, turtles, and dolphins tangled in shark nets. I then realised that the oceans needed more help environmentally than the land," he said.
"I sat down with the team and discussed the problem with them and after doing loads of research and analysis we all agreed that this was going to be the more interesting of the two problems to solve".
The innovative design of Aquashield uses magnets, similar to those used in personal shark repellants on the market, by interfering with the sharks' senses.
After researching, building their prototype and developing a business plan, Kiavesh and his team pitched their idea along with teams from over 40 schools, in Future Anything's Activate program, which challenges young people to research, develop, and prototype scalable business solutions that make the world a better place.
After a series of fast and furious pitches, some super tough questioning by the judges, and a live People's Vote, the team were crowned winners, with a $2,000 kickstarter fund and a suite of support to launch their business into the real world, which they hope to increase through further business and research backing.
"We plan to follow our proposed timeline by first receiving support from local conservation groups, such as the Australian Zoo and the Mooloolaba Sealife," Kiavesh said.
"We're going to do a fair amount of work during the holidays, and hopefully install this product in Australia and eventually the world".
On 26 November, the College was again recognised on the national stage when it won Best Co-Curricular Program at the Australian Education Awards 2020 – an accolade that recognises the most outstanding co-curricular program or initiative developed by a school in Australia, including special needs support programs.
The College's extensive co-curricular program focuses on building students' personal capacity in the areas of cultural intelligence, cross-cultural communication and ethical decision making.
Tim Barrett, head of College Ministry and director at St Andrew's Institute of Learning (SAIL), said the College is now in the process drawing from the massive trove of feedback collated during the pandemic to improve teaching and learning in the year ahead.
"The College gathered a host of data from post-remote-learning surveys that were taken by students and parents," Barrett told The Educator.
"This data reminded us of the importance of growing personal capacity, especially in the areas of resilience and self-regulation, and the benefits of student voice and choice".
Barrett said the College will be incorporating these aspects in its 2021 co-curricular programs so that it can continue to improve programs for students.
"Despite the uncertainty that still exists around next year, we will maintain our desire to provide co-curricular opportunities that develop well-rounded students who are equipped with the skills and capabilities necessary to face whatever the future may bring".