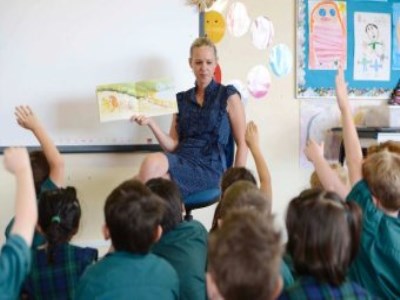 Queensland teachers will soon undergo an intensive professional development program aimed at boosting their knowledge in Science, Technology, Engineering and Mathematics (STEM) education.
In a statement, the state's Education Minister, Kate Jones, said the $3m professional development program for state school teachers was the first of its kind in Australia.
"We want to ensure our teachers have the skills they need for 21st century classrooms," Jones said.
"Our teachers have until Friday 24 June to apply for the online program developed in partnership with
Griffith University
and the Queensland University of Technology."
Jones said the program would keep teachers up-to-date on the latest teaching and learning techniques in STEM education, an area that aligns with the skillsets required for many emerging and future jobs.
"Some of the jobs we need to start preparing our students for now don't even exist," she said.
"That is why we are committed to offering teachers the professional development opportunities they need to boost their knowledge and skills on an ongoing basis.
"I encourage all our teachers to apply as soon as possible and wish them every success in completing these professional development programs, which start on 25 July."
Teachers can choose own areas for upskilling
Jones said teachers would be able to select from the following STEM professional development and upskilling programs:
Prep to Year 10 Digital Technologies, to supercharge teaching skills in programing, coding and robotics;
Primary science, to increase teaching capability and confidence in Prep to Year 6.
Junior secondary mathematics and science, to help teachers transition from other qualified subject areas to Years 7-9 maths or science; and
Senior secondary Maths B, Chemistry and Physics, to help teachers transition from other qualified areas to Year 11 and 12 specialty subjects.
STEM skills crucial in a changing world
Jones opened last week's EduTech 2016 event in Brisbane by highlighting the importance of STEM skills in the world students will enter once they leave school.
"The reason why I wanted to be here today is because I wanted to reaffirm that we absolutely see technology as being at the front of learning in our classrooms, and we have to go on this journey," she said.
"We know how rapidly the world is changing, and it's changing at a pace that is unprecedented. We are going to see more than 100 years of change in the next 10 years, and it is a responsibility as educators to ensure we're providing our young people with the skills they need to be connected in this new world."
$400m towards teaching scholarships
In May, Labor
announced
it would spend almost $400m on teaching scholarships to encourage recent graduates with science, technology, engineering and maths (STEM) degrees to continue their study and become STEM teachers.
In a statement, Labor leader, Bill Shorten, said that while many countries in our region are high achievers in maths and science education, Australia's science and maths literacy rankings was falling.
"The most recent PISA report ranked Australia 19
th
in maths and 16
th
in science, based on the performance of 15 year-old secondary students. In the year 2000, Australia ranked fifth in maths and seventh in science," he said.