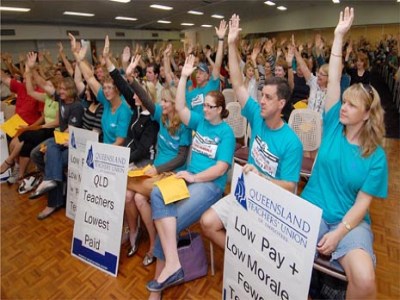 More than 40,000 Queensland teachers are considering industrial action if the state's government refuses their wage demands.
The
Queensland Teachers Union
(QTU) and the state government have been in talks since May over teachers' salaries, which the union says need an increase of 4.5% per year.
The previous wage agreement expired at the end of June, and a new one must be reached within the next two weeks, or teachers may miss out on extra superannuation.
QTU president,
Kevin Bates
, told
The Australian
that while striking was a "last resort", teachers deserved salaries that "reflected the community's respect".
"When you consider we're now in a scenario where experienced Queensland [state school] teachers will be paid less than their colleagues working down the street [at Catholic schools] … all options will be considered," he said.
"We are continuing to negotiate; there's not an impasse and we've been making progress."
Queensland Education Minister, Kate Jones, said the state's government approached all enterprise bargaining negotiations "in good faith" and was "working with the union to seek a fair outcome".
"We hope to reach an agreed position without the need for ­industrial action," Jones said.
"However, I understand the steps the union have taken — in line with industrial legislation — to seek the views of their members should they feel the need to take protected industrial action."
The last time that Queensland's state school teachers took industrial action was in May 2009 when 30,000 teachers walked off the job in protest at the State Government's refusal to meet their wage demands.