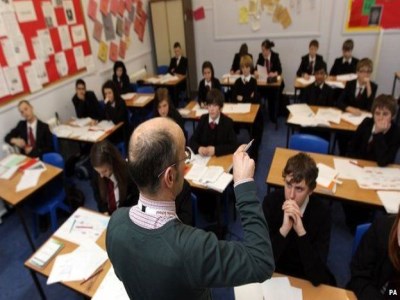 The NSW Education Minister,
Adrian Piccoli
, has threatened to cap the number of student teachers to boost the quality of teaching the state's classrooms.
Piccoli also said a cap was necessary to prevent students from "getting around NSW rules by studying in another state".
"I'm not prepared to have school teachers whose students know more than they do," he said in a statement.
However, some, including the
Australian Catholic University
(ACU) vice-chancellor, Greg Craven, have cautioned against the move.
Professor Craven blamed the NSW Government's quality crackdown for a 30% plunge in enrolments in teaching courses over the past two years.
He added that Australia would not have enough teachers to cope with an influx of 100,000 extra "baby boom" students in the next five years.
"Piccoli will import teachers into NSW from overseas within a few years,'' he told
The Daily Telegraph
.
"You've got a crisis coming and it's now too late to avert it.''
When the NSW Government first laid out its vision to improve teacher quality, the executive dean of Charles Sturt University's education faculty, Toni Downes, argued it should not be up to the government to decide how many people study teaching.
"Graduates go to the non-government school system, the catholic school system, interstate, they go overseas, they use [their degrees] in educational settings that aren't schools and a range of human services using HR," she said.
Earlier this year, a pilot test designed to evaluate basic literacy and numeracy skills saw nearly one in 10 trainee teachers fail to pass, a result Federal Education Minister,
Simon Birmingham
said was concerning.
However, all federal, state and territory leaders have since agreed to make student teachers pass a literacy and numeracy test before graduating from university.