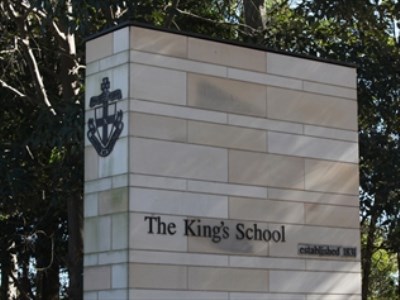 One of Australia's most prestigious private schools is under investigation after footage surfaced showing some of its rugby students 'crash-tackling' sheep.
The video, which was posted on a private Facebook page, shows the King's School students running into a paddock where they chased, tackled – and in some cases flipped over – sheep.
The school, located in Parramatta, charges parents of Year 12 students up to $52,000 per year for their children to attend.
In a statement to ABC News, the school principal, Dr Tim Hawkes, admitted that although no harm came to the boys or the animals, the activity was nonetheless "a poor choice".
"Although training was given beforehand on how to handle sheep and the event was supervised by several experienced farmers, there was always the capacity for hurt," he said.
"As recent events have also shown, there was also the capacity to bring the school into disrepute."
Hawkes added the matter had brought other issues to the fore.
"These [other issues] include whether it is acceptable for boys to engage in any activity that carries risk, whether an urbanised community understands rural ways and what the acceptable limits to media reporting should be," he said.
"However, the central issue remains the respect that needs to be given to animals. It is vital that a culture of care and respect be engendered in all who live or work with animals. This is a charter that the school takes very seriously."
Hawkes has since directed that "no training activities of this nature ever occur again".
The NSW Farmer's Association (NSWFA) has condemned the video, telling the ABC it was dangerous and "plain stupid".
"This is unacceptable animal husbandry practice. You'd never treat your stock like that and I would say most concerned farmers would view that with a bit of horror," NSWFA president, Derek Schoen said.
"It's distressing to the animals. It will make future husbandry practices more difficult with the animals — they'll remember what has happened in those yards.
"A full-grown ram will be over 100 kilos and frequently when they're shorn they'll be sedated for the safety of shearers, so to have rams running around with a whole lot of school kids I think is just plain stupid."
RSPCA inspectors have reportedly attended the school's Parramatta campus to question Hawkes further about the incident.