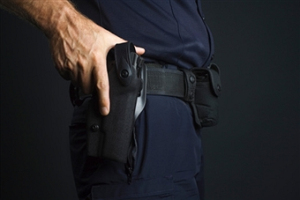 Victoria's largest Jewish school looks set to become the first in the state to enlist armed guards, in a remarkable bid to boost its security. Starting this week, guards bearing guns will be stationed at Mount Scopus Memorial College's three Melbourne campuses.
Principal Rabbi James Kennard said the decision to bolster the security arrangements around the college locations had not been triggered by any specific threat. "Security at Mount Scopus Memorial College is under constant review and we aim to follow best practice at all times," he said. "For this reason we have decided that our security needs are best met by the introduction of armed guards at our campuses, following the example of Jewish colleges and institutions in Sydney who have acted in this way for over twenty years."
The co-ed school, which has children from kindergarten to Year 12 and accommodates 1,530 students, sought advice from Victoria Police prior to making the decision. Other Jewish schools in Melbourne are likely to consider employing armed guards in the wake of the move by Mount Scopus. "Our foremost priority remains the safety of our students and staff," noted Rabbi Kennard.
"This is a decision which has been made by Mount Scopus Memorial College regarding its security needs," President of the Jewish Community Council of Victoria Jennifer Huppert told The Educator. Huppert said she understood that the College had consulted widely before taking this step. "The decision is a result of the heightened security levels now in place across Australia and worldwide, which affect both the Jewish and the broader community and is not in response to any particular threat to the College," she added.
Jewish schools have been on high alert for some time amid concerns about a resurgence of anti-Semitism on a global scale. While armed guards have had a presence at a number of Sydney-based Jewish schools and institutions for more than two decades, the strategy had not been adopted by Jewish schools in Victoria.
A large number of Jewish schools in Melbourne decided to beef up their security in 2012, following an attack on a Jewish school in Toulouse, France in which four people were killed. In addition, an incident on a Sydney bus last August set alarm bells ringing when five teenagers racially taunted and physically threatened young Jewish students.
Back in March, the federal government confirmed that 54 schools that were at risk of attack or violence arising from racial or religious intolerance would receive a share of $18m in funding to improve security. Seventeen Jewish schools and 15 Islamic schools were able to access the funds to employ security guards and install CCTV camera systems. However, Mount Scopus was not able to access the funds for their armed guards, which will now be provided by a private company.
Richard van der Draay