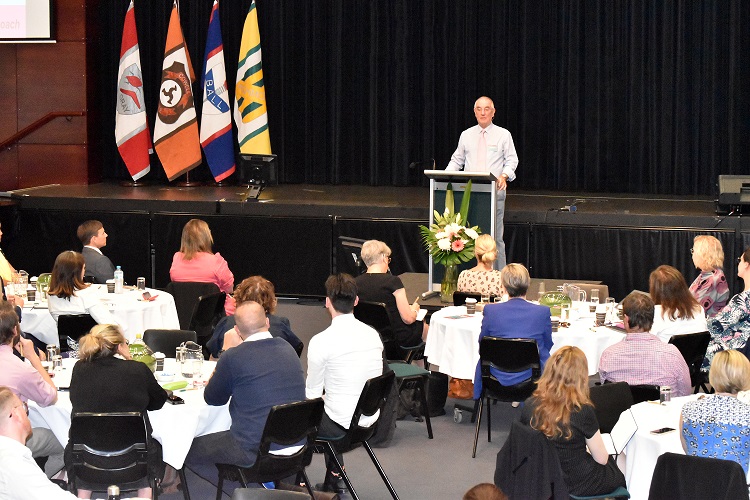 Increased expectations around student academic achievement and the aspirations of girls have occurred along with a significant increase in complex mental health and wellbeing concerns for young women.
The Danebank Approach to Learning is how we have responded to these challenges through a comprehensive strategic leadership response involving extensive community consultation and academic partnerships.
Danebank Anglican School for Girls last week hosted internationally renowned cognitive scientist Professor Guy Claxton at a day-long workshop attended by around 150 representatives from more than 30 schools.
Professor Claxton's research into ways to enhance people's capacity to learn has led to the development of his Learning Power Approach (LPA). LPA is a research-based, teacher-friendly way to systematically strengthen students' confidence and skill at tackling learning challenges across all phases and subjects of education.
Research shows that girls are increasingly affected by anxieties about their academic and social world - and that these anxieties can impact on their ability to meet their full potential at school and beyond.
Being acutely aware of the range of complex challenges facing our students, and deeply committed to preparing them for an unknown future, the school is addressing these challenges in a two-pronged manner.
Danebank identified that student wellbeing lies at the core of educational wellbeing, and therefore, in 2021, implemented and now continues to integrate Dr Lea Waters' Visible Wellbeing framework into all aspects of school life.
The second part of this approach draws on Professor Claxton's research on how students can learn how to learn. This has provided part of the academic basis for the development of the Danebank Approach to Learning - a bespoke model of teaching and learning the school launched earlier this year.
"We want Danebank graduates to be confident, resilient, creative, resourceful and reflective learners - full of hope about the future," says Dr Emma Burgess, Danebank Principal.
"The Danebank Approach to Learning is a comprehensive response to contemporary concerns about student learning and wellbeing, combining evidence from both the learning sciences (Professor Guy Claxton's Learning Power) and positive psychology (Professor Lea Waters' Visible Wellbeing framework).
"The resulting model recognises the central role that wellbeing plays in learning for girls and the possibilities that positive wellbeing for learning creates for our students to thrive in all domains of their lives. Importantly, it also recognises that our students' ability to learn is never fixed - every single person has the ability to be a better, and more powerful learner by focussing on the skills and capacities that make up powerful learning."
One example of the impact of Professor Claxton's research at Danebank has been the way in which students engage in collaboration in the classroom. Working with others is a cornerstone of our society and part of almost every workplace.
The Danebank Approach to Learning recognises that knowing how to collaborate and work well with others is a discreet, learnable skill - one that we all have the capacity to improve in.
"Students from Kindergarten to Year 12 have all spent time thinking about what it means to collaborate well and have themselves identified that doing this involves demonstrating perseverance, valuing the contributions of others and being productive in resolving differences.
"When our students know what it means to collaborate they can do this better, and the result is more powerful and impactful learning'" Dr Burgess concludes.
This story originally appeared as a media release by Danebank Anglican School for Girls.