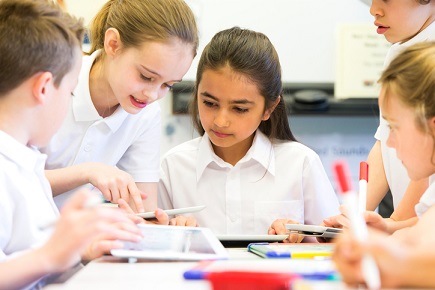 An education reform effort that seeks to confront systemic barriers to health and wellness will leveling the playing field for students, says a Harvard professor.
Paul Reville is the Francis Keppel Professor of Practice of Educational Policy and Administration at the Harvard Graduate School of Education and the former Secretary of Education for the Commonwealth of Massachusetts.
According to professor Reville, what children do during the 80% of waking hours they are not in school can mean the difference between thriving and failing.
"Any teacher of disadvantaged children will have lots of stories about health care issues – from toothaches and anxiety to the need for eye glasses to the challenges of asthma – that get in the way of students being able to concentrate and learn at high levels," Reville told Harvard University's Usable Knowledge.
"Some schools tackle these problems head-on by setting up a health care clinic or developing a partnership with a neighborhood health center, but others simply don't have the resources and time to address these fundamental impediments to learning."
In other words, US schools don't have a system that guarantees children's health and well-being.
Professor Reville says the current approach is "hit or miss".
"This is unless you're from a privileged family, in which case you can count on getting wraparound health care, mental health services, and regular dental care," he said.
"Is it any wonder, then, that children from these families routinely learn at higher levels, on average, than children who lack adequate access to health care?"
Harvard's Education Redesign Lab is focused on plugging that gap by working with communities to build systems of support and opportunity that put disadvantaged children on a level playing field with their more affluent peers.
The Lab's theory of action is this: Only by working toward equity of systemic services, supports, and opportunities can we break America's iron-law correlation between socioeconomic status and educational achievement and life outcomes.
"We believe that a 'schools only' approach to achieving equity is a proven failure, and that school reform, narrowly conceived, is destined to continue falling short," he said.
'A new social compact'
Professor Reville says communities must step forward to create "systems of opportunity".
"There needs to be support in which teachers, upon identifying a non-school problem in the life of a child, can pick up a telephone and connect with someone in the community who can actually do something about the issue," he said.
"We need more 'connective tissue' between our schools and our family-serving organizations, so family support is not so fragmented, disarrayed, and difficult to access. Service silos don't work."
Professor Reville recommends a 'new social compact' between communities and families which guarantees all children receive the supports and opportunities they need to go to school each and every day fully ready to learn.
More than half of US students are now economically disadvantaged, many of them living in deep poverty. At the same time, students of color are now a majority of the children in US public schools.
"These students are disproportionately afflicted by challenges outside of school, and, to date, we haven't been very successful in educating high proportions of these students to proficiency," Professor Reville said.
"It is vital to bear in mind that their success will determine our success as a country, an economy, and a democracy."