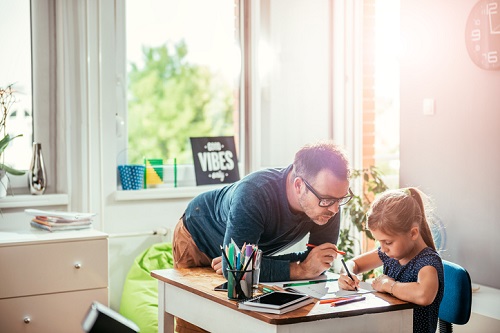 From electronic video newsletters for boarding parents, to "blossom bags" with home-based literacy activities for Prep and Kindergarten parents, Queensland independent schools are adopting new approaches to link school and home to enhance student learning.
The projects were showcased at a parent engagement breakfast hosted by Independent Schools Queensland (ISQ) in Brisbane on Monday.
ISQ executive director, David Robertson, said more than 40 years of research had shown that student outcomes and wellbeing were maximised when parents were not simply involved in their child's school but were actively engaged in supporting their learning.
"In the busyness of modern-day 24/7 connected lives, sometimes the simplest activities such as eating a meal together or asking a child what they learned in school, can be lost," Robertson said.
"Yet PISA has shown family activities like these can have the biggest impact on student outcomes".
Robertson said Monday's breakfast was part of a broader joint project by ISQ and the Queensland Independent Schools Parents Network (QIS Parents Network) to support community and parent engagement in independent schools.
Breakfast keynote speaker, Lecturer in Curriculum Studies at The University of Queensland, Dr Linda Willis said schools that are "knocking it out of the park" in terms of parent engagement were often doing very simple and practical activities.
However, she said these were grounded in an appreciation of the role of parents as the "first and continuing teachers of their children" and shaped around the needs of local families and the communities in which they are situated.
"When schools do that, it's potentially game-changing," Dr Willis said, adding that many of the strategies teachers can employ are relatively simple.
She said these could include teachers providing a "week ahead" parent newsletter outlining the learning for the week; creating a parent room that encouraged families "to linger after morning drop-off" to network with other parents and school staff; and asking parents to give talks or value-add to student learning based on their skills and interests.
Dr Willis said at its heart, parent engagement was about building respectful, trusting and positive relationships that benefit student learning.
"If parents can see a school is genuine about inviting them and what they are being invited to do is linked to their child's learning the research tells us they are more likely to invest," she said.
QIS Parents Network executive officer, Sue Kloeden, said just 15% of a child's waking life would have been spent at school by the time they graduate Year 12.
"There is an incredible and untapped potential for families to have a substantial impact on their child's learning and wellbeing in partnership with their schools," Kloeden said.
"However, some parents don't know how to help or may not feel confident in their abilities to support their child's learning. That's where the expertise and guidance of our schools is so critical."
Kloeden said the QIS Parents Network maintains a central online hub of parent engagement resources and research for all schools and parents on its website.
It also provides funding support to independent schools that want to build and enhance how they engage parents in their child's education. This funding is administered through ISQ's Research in Schools Program.
Three schools that have been funded through the program shared their projects at today's breakfast:
The Southport School proved distance is no barrier to engaging parents in their son's school lives. The Gold Coast school improved its reach and connection with boarding families through the development of an interactive, electronic boarding newsletter.
Border Rivers Christian College recognised dads were less visible in the school than mums. The Goondiwindi school used simple, but effective strategies to engage its father figures in the life of the school and the education of their children.
St John's Anglican College saw an opportunity to partner with their Kindergarten and Prep parents to reinforce classroom learning at home. They introduced take-home "blossom bags" containing a storybook and a connected hands-on home activity that encourages parents to talk, play and have fun with their children, all of which have a positive impact on a student's oral language development.