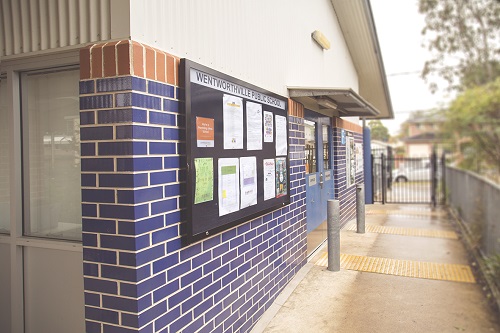 CIVIQ has collaborated with Wentworthville Primary School to install three FlexiDisplay TuffLok Premium Outdoor Lockable notice boards across the school's campus.
Located west of Sydney in the Cumberland Council region, the school welcomes over 600 students through its gates.
Wentworthville Primary identified that there was a lack of protected display space to present key information to staff, students and parents, in a safe and secure format.
They wanted to implement a number of robust notice boards in key areas around the school, but required a product that could endure the dynamic nature of the school environment.
The primary school reached out to CIVIQ due to the company's range of Australian-made premium notice and poster display boards engineered for both indoor and outdoor applications.
CIVIQ recommended the FlexiDisplay TuffLok Lockable Noticeboard, because of its ultra-robust design with weather and vandal-resistant features.
The product is designed to withstand harsh weather, with marine-grade aluminium framing, concealed fixings, and corrosion-resistant finishes to ensure that dirt and water do not penetrate.
It also features a shatter-proof polycarbonate window with an added vandal-resistant protective film.
Available in a range of custom sizes, the school selected the 1200mm height x 1800mm width configuration – allowing plenty of space for large posters and printed documents to be displayed.
Staff can change displayed content with ease, via the board's auto gas lift door, which gently opens the door upwards and holds it in place while posters are replaced.
Two key locks mounted to the door offer maximum security when the user is finished.
Wentworthville Primary School principal, Denise Lockrey, commented on the FlexiDisplay products.
"The notice boards from CIVIQ are an easy and convenient method of conveying important information to staff and parents," Lockrey said.
"We value knowing that our documents are safe and protected."
The TuffLok noticeboards are located in prominent locations within the school, including outside the office administration building and in the quadrangle.
The notice boards have been used to exhibit key information to the public including staff contact details, bell times, P&C committee information, student success stories, upcoming "fun days" and general announcements.
The TuffLok noticeboards have become a useful and highly-utilised addition to the school's infrastructure by allowing printed information to be displayed outdoors, year-round.
Related stories:
Bullying prevention: what methods are working?
The link between 'helicopter parents' and student behaviour
Inquiry-based learning: what the research says