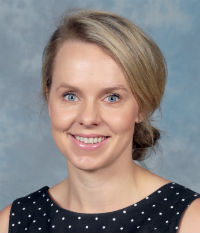 Anna Cross, Deputy principal, middle school, Haileybury
Deputy principal, middle school
Haileybury, Vic
Anna Cross is a highly driven, entrepreneurial leader determined to make a di­fference, and she is working to ensure Haileybury's students are equipped to thrive in a workforce expected to be drastically di­fferent to that of today.
As head of middle school, Cross developed a safe, supportive and inclusive environment for students and sta­ff, including an age- and stage-appropriate scaffolded wellbeing program. Now, as deputy principal of middle school, she is endeavouring to develop the world's best middle-school program; as part of her e­fforts to do so, she has spent hundreds of hours researching models based on the future of work. Cross is collaborating with top middle schools around the world to ensure the program aligns with Haileybury's vision to be a 'great world school'. Cross' new middle-school program will be based on developing 'enterprising' and 'work smart' skills. She also aims to embed a culture of continuous improvement in which research, innovation and creativity are valued.
Cross is currently completing her MBA at Melbourne Business School. She has a master's of education from The University of Melbourne, has studied at New York University's Stern Business School and has also completed a course from Harvard's Graduate School of Education.