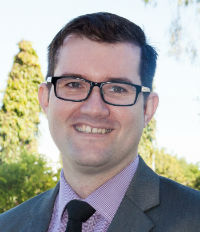 Matt Hodge, Head of service and global learning, Whitsunday Anglican School
Head of service and global learning
Whitsunday Anglican School, Qld
Since 2015, Matt Hodge has been Whitsunday Anglican School's head of service and global learning, where he has distinguished himself thanks to his "motivation, hard work and commitment to delivering programs that not only benefit members of the school community, but also provide meaningful rewards for the local community and region," a colleague says.
In creating and implementing the school's global learning program, Hodge has facilitated global exchanges and experiences for hundreds of members of the school community. He has established partnerships with seven partner schools throughout the world, providing collaborative opportunities for both staff and students.
Hodge is also committed to assisting and encouraging local educators to give back to the teaching profession. He has established a TeachMeet network in his region to provide support to local educators. Since starting the network, he has coordinated TeachMeet events centred on innovation, leadership, literacy, general teaching practice and support for early-career teachers for more than 130 educators.
These events have also encouraged local educators to develop and enhance their presentation delivery skills in their own areas of expertise, and many of these educators have gone on to present at other professional development events.