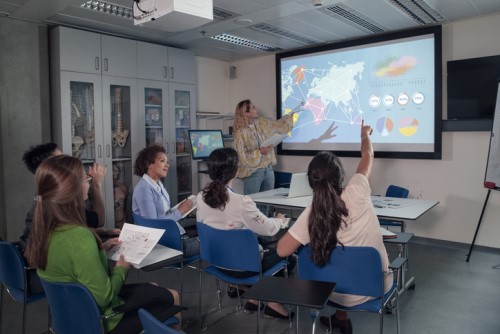 There's no room for complacency in the Australian education sector. Intense competition for students and funding, both locally and internationally, is forcing institutions to find ways to do things smarter and better.
From the classroom to the back room, harnessing the power of data analytics is the key to improving quality in the education sphere.
With tertiary and vocational education now Australia's largest service export – the country plays host to an astonishing 500,000-plus international students each year – doing so has never been more important.
These students, and their fee-paying parents, vote with their wallets and they're voting for well-credentialled institutions which have the pursuit of quality at their core.
Retaining local students is also a high priority. The current drop-out rate for first year university students sits at around 15 per cent. Education providers which offer a top quality teaching and learning experience stand a better chance of ensuring their students see diplomas and degrees through to completion.
Why quality counts
The concept of Total Quality Management – the term given to enterprise-wide programs which encouraged workers to continuously improve products, services and work practices – rose to prominence in the late 1980s. Three decades on, this ethos continues to inform the way many companies and organisations operate; educational institutions amongst them.
Regulatory frameworks exist to encourage education providers to improve the quality of their teaching and research and the efficiency of their operations, as commercial enterprises. Some of the benefits of their striving to do so include:
Ensuring they remain accountable for the public money they receive, in the form of fees and grants
Lifting standards across the board by stimulating competitiveness between institutions
Ensuring compliance with government requirements regarding their governance
Helping weed out sub-standard providers by raising student expectations
Doing better with data
You can't manage what you don't measure is an old business adage that holds as true today as it did when it was first coined. Without the adoption of regular and rigorous metrics, efforts to improve operational and service quality are likely to prove hit and miss, however diligently they're put into place.
Harnessing the power of data analytics makes it easier for education providers to benchmark themselves against others in the sector and extract actionable insights that can lead to better decisions and practices within their organisations.
Doing so can serve a number of purposes. They include:
Monitoring institutional performance and managing change
Creating a more collaborative and competitive educational environment
Identifying and prioritising specific areas of opportunity
Understanding the needs of students and staff better
Identifying strengths and weaknesses within the institution and evaluating the effectiveness of remedies for the latter
Setting goals and performance expectations.
Considerable financial advantages can accrue to providers which are willing to crunch the data and check how they're doing, against their peers in the industry and their own past performance.
Recent research by Tribal found the adoption of benchmarking services could identify potential savings equivalent to three per cent of an institution's annual income.
That's not pocket change and in an era when freezes and cutbacks have become par for the course, it can represent an unparalleled opportunity for education providers to maximise the utility of their shrinking budgets.
The cloud holds the key
For institutions running modern cloud-based student management systems, amassing the data necessary to undertake regular comprehensive benchmarking is no longer an arduous undertaking.
Recent advances in technology mean it is now possible for education providers to take advantage of their increasingly large data sets.
User friendly data analysis tools can make extracting insights from institutional data and developing sophisticated predictive models for the future a relatively simple matter.
This represents a significant leap forward. Effectively, institutions themselves can be transformed from passive aggregators of untapped data into informed users.
The insights at their disposal can be harnessed to deliver quality improvements in the form of organisational and academic excellence.
Staying ahead
Striving to improve the quality of all that they do is not merely an admirable undertaking for Australian education providers. In today's competitive climate, it's an economic imperative. Analysing their operations, exploiting the mass of data at their disposal and implementing comprehensive metrics to assess their efforts to deliver a quality learning experience to students will be key to their survival and health in an increasingly commercialised landscape.
Peter Croft is APAC Managing Director of Tribal Group