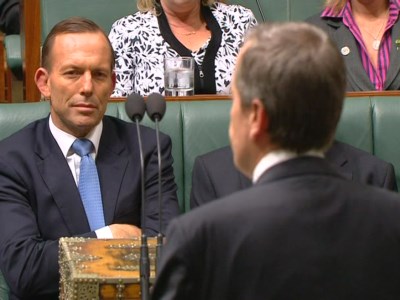 The Senate has rejected the Federal Government's higher education bill for the second time in three months, potentially setting the stage for an early election.
The bill, which would allow universities set their own fees, was defeated by 34 votes to 30 on Tuesday night.
Independent Senators Nick Xenophon, Ricky Muir, Jacqui Lambie, Glenn Lazarus and Dio Wang, sided with Labor and the Greens to defeat the bill.
A double dissolution election is allowed when a bill is defeated twice. Despite the Government's proposed reforms being rejected a second time, Tuesday night's vote did not qualify as a double dissolution trigger because the bill had been amended.
​
However, if the bill goes to a vote for a third time in the same form and is rejected, the PM can request that the Governor-General dissolve both houses of parliament and call a general election.
Speaking on Sydney's 2SM radio this morning, the Prime Minister said he would not give up on attempts to deregulate the sector and the bill would again be put to parliament.
"We will have another go at this," Abbott vowed.
"Just about all the university vice chancellors say that if universities are to flourish in the future they need to lose the hand of Canberra."
Abbott's vow to push through the reforms came as Labor Senator, Kim Carr, called for Education Minister, Christopher Pyne, to resign or be sacked.
However, Abbott stood by Minister Pyne, saying he was doing an "excellent job" and that the Education Minister would remain in his position.
"Absolutely, he is doing a really, really good job," Abbott told 3AW.