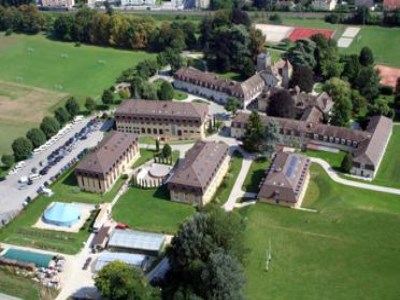 A 1,000-seat concert hall, a shooting range, an equestrian centre…and of course, an 11.5m yacht on Lake Geneva.
These are just a few of the perks of being enrolled at the prestigious Institut Le Rosey - the world's most expensive boarding school.
As for the fees, they'll set parents back a cool $175,000 per year. I guess it's what you'd expect from a lavish institution that is located on the picturesque banks of Lake Geneva and nestled between the beautiful snow-tipped Alps.
The international school is home to some 400 students from 60 countries, all treading in the privileged footsteps of Prince Rainier of Monaco, King Farouk of Egypt, the Aga Khan, Prince Edward and many others.
But don't think you can just cough up the money and walk in. The Institut Le Rosey usually only accepts one-in-three candidates who must sit either the International Baccalaureate (IB) or French baccalaureate. Another strict prerequisite is learning up to three other languages.
In fact, the school may not even accept you unless you are expected to get into university.
So what's a 'day in the life' like for a "Rosean"?
A student's alarm clock will usually go off around 7am. After a brief visit to their private ensuite they will take a leisurely walk downstairs where they can enjoy a large buffet breakfast.
Between 8am and midday there are five periods of class with a mid-morning "chocolate break" (this is Switzerland).
From 1:15pm until 7:30pm, students are treated with two hours in a "Sports-Arts" block, choir, orchestra and drama rehearsals between their lessons.
By 7:30pm, students must be dressed in semi-formal attire so they can enjoy a delicious dinner in the presence of their peers and teachers.
Bedtime (surely welcome after such an active day) is from 9pm to 11:30pm, depending on the age of the student.
The Institut Le Rosey's other features can be seen on their
website
.