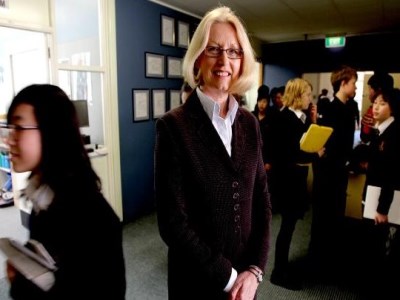 2008-2009 wasn't a good time for Glenunga International High School. Over 50% of our results in the South Australian Certificate of Education (SACE) were below state average and it showed little signs of improving.
Today, enrolments are surging as students vie for a place in what is now one of Adelaide's most elite performing schools.
The school's principal, Wendy Johnson, told
The Educator
that Glenunga's journey to becoming a high-performing school started with re-visioning its abilities during a time when the school was under-performing and turning that vision into reality through hard work and persistence.
"In 2008-2009, Glenunga was an underperforming school. More than half of our SACE results were below state average. For a middle-class school, that's a significant under-performance. So since then, we've been on a journey of improvement that has seen better results each year," she explained.
The school has three popular programs – the IGNITE program, the International Baccalaureate program and the international education program. However, they are just a few of the reasons it has seen a flood of enthusiastic students through its gates.
In 2010, the school undertook a process that involved its community of 1,400 students and families to develop a set of values that were not the kind of "normal motherhood statements seen around schools".
Instead, Johnson and her executive focused on the values that their students wanted to see manifested, and ones that differentiated their schools from others.
"From that point on, those core values have become a kind of oral tradition that's passed on from the older kids to the younger ones. The second key factor involves academics. We are now regularly listed in the nation's top 100 schools, having experienced a 20% lift since 2009 in our students' A and B grades," she said.
"However, the thing we're most excited about is that when we started this process, our students were getting B's and E's, but now we've almost eliminated that – not by eliminating the kids, which many schools do, but by supporting them," she said.
Glenunga is internationally accredited by the Council of International Schools, which accredits the best schools in the world – a process Johnson called "very tough".
"Not only does Glenunga focus on SACE and our International Baccalaureate program but on each of our students having a personalised learning experience," she said.
"Our teachers have worked on the question of 'what do our generation of 21
st
Century learners need that is the same or different from what the kids of previous generations needed?'" Johnson said.
"These kids need something very different in terms of their learning experience. They need a real sense of partnership with their teachers to personalise their learning and to progress as fast or as slow as they need."
However, while having a popular school is something many principals would love, managing the surge in enrolments has become a complex thing to manage, explained Johnson, who is introducing capacity management options.
Since 2011, enrolments at the school have spiked by 20% - and they're still rising. In Term 3, 2014, the school had 1,595 students. In Term 3, 2015, that number jumped to 1,733.
"As kids rush into a school there is the risk they can change its culture. In terms of our surge in enrolments, one of the challenges is how we will maintain all of the things people coming to our school are coming to get," she said.
"The issue for us about this is that it hasn't been a surge just at the beginning of the year. We've had new students coming all the time. Our teachers were putting in so much time to help the new kids catch up that there is barely enough time to assist the next one coming in."
That said, Johnson was confident her school has the situation under control and will be able to give all new students access to its world-renowned programs.
"Our teachers are continuing to work with lots of energy to keep getting the results that we've been getting. The school is passionate about working with its community to ensure the best outcomes for every one of its students," she said.