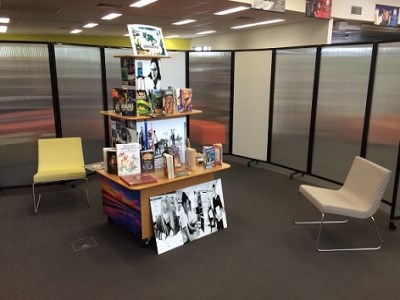 The collaborative learning space has long been considered a revolutionary classroom design which heeds the latest research into 21
st
century learning.
However, just how well does this kind of classroom work when students undertaking personal learning tasks are distracted by the chatter and activities of others nearby?
While many learning 'hubs' cater to this need, providing students with 'time out' and 'reflective' spaces, they might not allow students the level of privacy and quiet that they need.
Many schools have turned to one organisation for a solution to this issue.
Tony Haydar, managing director at Portable Partitions, recently released a
white paper
on the growing demand for flexible classrooms and explained how his company's products are helping meet that need.
Haydar told
The Educator
that while open-plan work spaces help students collaborate, they can also be disruptive when it comes to students trying to focus on individual learning tasks.
"We did some independent study into open plan education areas and found that over the last decade there has been a distinct move towards open plan learning areas," Haydar told
The Educator
.
"However, a lot of teachers have been finding that, while collaboration is a real asset, it can also pose as an obstruction when it comes to students' individual tasks."
Tracie Lavers, library officer from Beldon Primary School in WA, said apart from providing a quiet place for students to learn, the partitions gave students additional space to display their artwork.
"The portable privacy screens will be used to display student's artwork for our annual art exhibition," Lavers said.
"We are delighted with the units and the flexibility means we will find many more uses for them across the school as time goes by."
Haydar said the partitions provide a quick, practical and cost-effective way of aiding in the reduction of noise and enhancing students' concentration in class.
"No matter where they are, students can have their own private learning space. It really limits the distractions that an open-plan learning area might otherwise cause," Haydar said.
"Teachers are saying that the partitions make it a lot easier to maintain students' concentration at the levels needed to effectively conduct a class. For me, the judge is always 'did the value and usefulness of the product outweigh the cost?'
"I've always asked that in really direct terms and the feedback I've received has always been overwhelmingly positive."