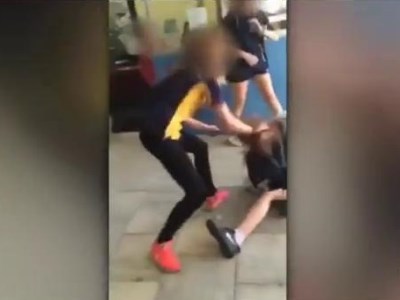 A Perth student is now refusing to go back to the school she says failed to punish three bullies who punched her in the head and dragged her by her hair.
Graphic footage has emerged of the schoolgirl being viciously beaten by another girl as two others cheered the attacker on.
The victim says she is too scared to return to her eastern suburbs school as her bullies, who threatened and intimidated her over a two-week period, remain inadequately punished.
The victim's mother claims the violent behaviour of the bullies – which was sparked by a social media-related issue – have not been sufficiently dealt with by the school, adding teachers' initial "solution" to the bullying was to allow the girl to leave school early to avoid being attacked.
However, the school's principal defended staff, who he said took bullying very seriously and took action whenever issues were raised.
"We created a safety plan for [the victim] at school, offered counselling and mediation, identified a safe place for her to go to within the school and escorted her home on one occasion," he said.
"Staff were also available to escort her to class when she felt it was needed."
In response to the bullying, the school placed the offending students into a mediation session where the instigator was told if the intimidation continued she would be suspended for three weeks.
However, the bullying continued until it culminated in the filmed assault earlier this month.
The student who instigated the incident was suspended for 10 days and the two other girls involved were given three and one-day suspensions - but their victim is still too scared to return to school as the suspensions have now ended.
The Department of Education's exclusions policy states a student can be suspended or expelled if their behaviour has "adversely affected or threatened the safety of any person who is on the school premises or participating in an educational program of the school".
Despite fitting this criterion, the attacker was not excluded and the Education Department failed to answer how far a student actually had to go, before the school expelled them.
The victim's mother has slammed the school's inaction, saying it failed to send a strong message to bullies.
"This girl is on a path of destruction and now is the time to intervene to give her some sort of chance in life," she said.
"Obviously my aim is to protect my daughter but this girl needs help too."