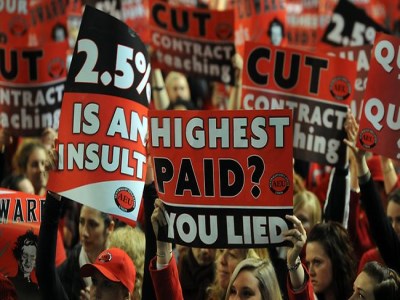 "Teachers are suffering under an outdated salary structure," protested the Institute of Public Affairs (IPA) in December.
Last week, the Australian Education Union (AEU) launched its counter-attack, accusing the IPA's
report
of being "riddled with factual errors".
From how the news media negatively framed the state of the education sector in 2014, it's fair to say we all feel your pain. Now, the AEU and the IPA are locking horns in a showdown over how much you should be getting paid.
John Roskam, executive director of the IPA, argued in December:
"Under existing regulations a Nobel Prize-winning scientist who wants to be a teacher must be paid the same as a 22-year-old inexperienced graduate."
The AEU hit back, citing the latest
Enterprise Agreement
to refute the IPA's claims.
"Contrary to the picture provided by the IPA report a Nobel Prize-winning scientist would very quickly, if not immediately, find themselves at the top of the salary scale earning considerably more than a first-year graduate," the AEU's Tom Greenwell
wrote
.
As of February, a first year teacher, having completed four years of study, will receive $61,000, increasing gradually until it is capped at $97,000.
An
article
published by Troy Deag on the website Training.com.au suggests a correlation between teachers' pay and the quality of the work they do.
"When compared to other professions – for instance trades where after four years of an apprenticeship one can earn up to twice the money a teacher earns, we begin to understand why the quality of our teachers is diminishing,"
Deag wrote
.
The question of whether we care enough about our teachers is subsequently raised in the article.
"Sure we can peddle out the tried and true excuses such as reliance on spellcheck, general apathy with Generation Y and smartphone addiction. But is that the real reason or is it deeper than that? Could it be that we simply don't care enough about our teachers?"
Deag asks.
As a teacher, how fair do you think your pay scale is?