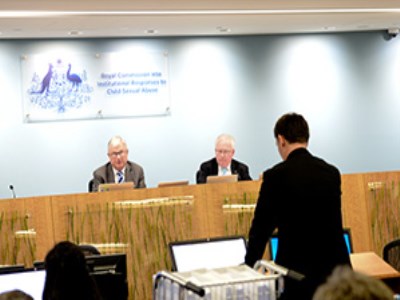 One of the country's most prestigious schools is being investigated over an alleged "paedophile ring" which existed for 33 years.
The Royal Commission was told that eight Knox Grammar teachers were involved in a string of abuses
between 1970 and 2003, and that the school failed to inform the police despite being aware of the complaints.
Day one of the public hearing into the school included new allegations against three staff. Five other staff members have already been convicted over sexual offences involving students.
The commission also heard evidence that a number of files of students who lodged complaints of abuse may have been deliberately destroyed.
One teacher, who allegedly wore a balaclava while sneaking under a boy's bed one night to abuse him, will be among the witnesses giving evidence at the hearing.
In his opening address to the Royal Commission into Institutional Responses to Child Sexual Abuse, David Lloyd, the counsel assisting the commission, said the school failed to report allegations to the police for decades.
"The abuse was perpetrated by these teachers between approximately 1970 and the year 2003," Lloyd said.
"It is anticipated that the evidence will show that, during that period, the school did not notify the police of any incident of child sexual abuse."
Senior council, Geoffrey Watson, acting for Knox Grammar, delivered an apology to students and parents, telling the hearing that the school failed to protect students.
"The school humbly and sincerely apologises for its failure," Watson said.
"It apologises to all of those students who are damaged by these events.
"It apologises to the parents of those students and to the other members of their families."
Watson acknowledged the scale of grief being felt by those affected by the tragedy, adding that the next two weeks of evidence would be a "dark time" for many.
"The school also acknowledges that an apology, however heartfelt, can only go so far," Watson said.
"The next two weeks will be a dark time for many people."
The hearing before Justice Jennifer Coate continues.