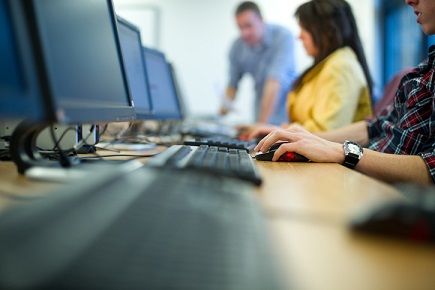 Reports show that within 20 years, 90% of all jobs will require some digital skills, and that 100,000 more tech workers will be needed by 2024.
For universities, this presents a clear challenge: with the technology sector almost certain to take the lion's share of high-demand jobs, skilling students in areas such as IT, machine learning, cloud computing and AI is crucial.
To this end, RMIT has been leveraging partnerships with some big tech industry players to ensure that students aren't left behind in Industry 4.0.
Recently, the university has been leveraging Amazon Web Service's (AWS) cloud-related content to upskill and train the next generation of IT leaders. Through AWS Educate, RMIT Online is developing a range of courses available specifically designed to arm individuals with skills in innovative technology and making them more accessible than ever before
The Educator spoke to Iain Rouse, AWS Country Director for Public Sector in Australia and New Zealand, about the ways in which the rise of cloud and emerging technologies have led to a new wave of jobs, services, and skills required to serve consumer needs.
"As cloud technology transforms the work we do and the skills we need to do it, more organisations are seeking individuals who have skills in cloud, AI strategy, and Virtual Reality (VR) and Augmented Reality (AR) applications to ensure the business can innovate and remain competitive," Rouse told The Educator.
Learning new skills in these areas are not just limited to today's graduates, Rouse pointed out.
"The pursuit for new knowledge and technical skills is a commitment that can occur at any point in an individual's career," he said.
"We're seeing workers from the frontline to the C-suite enrol in courses such as Developing AI Strategy or AWS Cloud Practitioner, in order to enhance their personal development and business skills".
Rouse said it's clear there's a growing understanding of the value and importance continuous learning brings to both the business and its people.
"For example, RMIT Online has collaborated with AWS Academy to introduce new cloud computing courses to respond directly to a growing trend within the industry for academic and industry credentialed education, and cater to the demand for a cloud-skilled workforce," he said.
Don't skimp on soft skills
However, the meteoric growth of the technology sector has prompted calls for soft skills not to be left behind.
A Deloitte report, titled: "The path to prosperity: Why the future of work is human", makes a compelling case that – despite the threat that technology poses to some sections of the workforce, particularly those involving routine and repetitive tasks - the future of work will be human.
In the report, Deloitte Access Economics partner, David Rumbans, backs up the importance of 'soft' skills with some interesting statistics:
86% of the jobs created between now and 2030 will be knowledge-worker jobs
By 2030, 25% of Australia's workforce will be professionals. Most of these will be in business services, health, education or engineering.
66% of jobs will be soft-skill intensive by 2030.
Other experts point to the importance of developing lifelong learning in students, who will need a diverse range of both technical and interpersonal skills to function properly in the future workforce.
According to Shane Blandford, chief marketing and innovation officer, Konica Minolta, the future of work is transforming professional development needs from specialised skills training and education degrees to lifelong learning.
"Hard skills will no longer have a singular relevance in the longer term, meaning the workforce will need to adapt and grow on the job," Blandford said.
"This has caused the focus to shift towards the continual upskilling of soft skills to equip the next generation to adapt to inevitable workplace changes".
To make sure the next generation is future-fit, Blandford said education institutions and public sector organisations must expand their training approaches and program offerings beyond specialised occupational training.
"They should include a focus on life skills as well as upskilling the next generation to be able to be proficient in dealing with AI, cybersecurity, robotics and 3D printing through digitally-focused courses and degrees," he said.