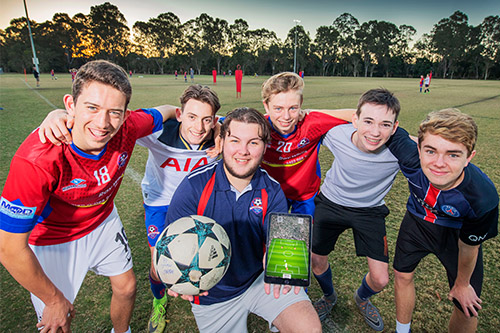 A ground-breaking app created by a Bond University student is empowering and improving the lives of young children with learning disabilities.
Young soccer players with learning disabilities are being taught to play the Augmented Reality (AR) game designed by 20-year-old Nicholas Shaw, who was inspired to design the app after he started coaching last year.
The app – which shows training drills, positioning and formations in augmented reality on smartphones and tablets – has led to a marked improvement in the confidence and skill levels of Shaw's playing group at Robina City FC.
"I started coaching last year because of a hip injury. I've played all my life, since I was five, but I had no idea about coaching," Shaw said.
"I have a few kids with learning disabilities, we started training in February and I've been trying to teach them off a white board or verbally, and it just wasn't working. This app came about to help me coach and relate to the kids better."
'There needs to be more help out there'
The Bond Interactive Media and Design student hopes to continue building and improving the app, and eventually partner with either Football Queensland or Football Australia to help other coaches and players across the country.
"In an ideal world, I want to partner with a big company so I can build it for other people," Shaw said, adding that while he has it for himself, other coaches don't have the luxury of using it to help them.
"I've looked for other things and there is nothing in the augmented reality space to help coaches and players. There are drills on YouTube, but no app."
Shaw highlighted the need for coaching courses to deal with people who have learning difficulties.
"It needs to happen. There needs to be more help out there," he said.
Both of Shaw's teams made the finals of the Gold Coast competition, even though the majority of his players were in their first year of the sport. However, Shaw said the relationships and life skills the players are learning are far more important than results.
"You have your own little imprint on them for the future and it is not just football-wise," Shaw said.
"Mentally and personally, you can't pass up the chance to make their week. I see coaching them as a safe space that they enjoy."
Shaw said that while it's encouraging to see kids apply what has been taught to them on the field, there is a special kind of satisfaction from seeing their confidence and quality of life improve.
"It is really rewarding. If I can impact one life, it is awesome – something I didn't really anticipate when I started coaching," he said.
Bond 'at the cutting edge' of VR/AT trend
James Birt is the associate professor of computer games at Bond University's faculty of society & design. He said today's students expect to be engaged by their environment, with participatory, interactive, sensory-rich, experiential activities (either physical or virtual) using technology enhanced resources to improve learning outcomes.
"This has resulted in a shift away from traditional face-to-face didactic delivery, to technology enhanced teaching modes and experiential learning delivery methods through innovative technologies such as VR and AR," associate professor Birt told The Educator.
"Bond University is at the cutting edge of this trend with students across the university engaging with these evolving technologies."
Associate professor Birt said the application of VR and AR is being used across a range of industries, necessitating the upskilling of students in these areas.
"In architecture and construction, learners are using building information models, game engines and VR/AR hardware to visualise and navigate designs and buildings," he said.
"In health sciences and medicine students interact with virtual anatomy through head mounted AR devices and navigate internal human structures through mobile VR solutions."
Through a research PhD student, Bond University has also developed an augmented reality tour of the Corrigan Indigenous Art walk digitally overlaying and enhancing the private art collection.
"This access to the technology and new pedagogical teaching methods ensures that students experience emerging technology but also understand the strengths and limitations," Associate professor Birt said.
"This knowledge can then be translated to the future workplace assisting problem solving, decision making and innovation lead thinking hallmarks skills of future jobs."