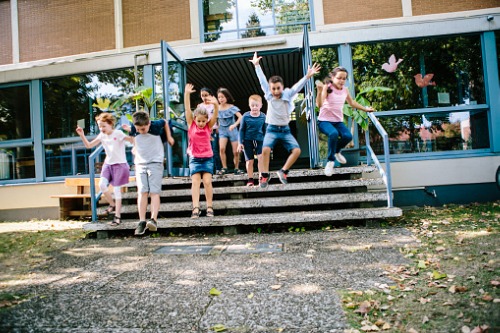 According to research by Professor Tonia Gray from Western Sydney University's School of Education, contact with nature can enhance creativity, bolster mood, lower stress, improve mental acuity, well-being and productivity, cultivate social connectedness, and promote physical activity.
It also has myriad educational benefits for teaching and learning. These benefits are certainly not lost on Glenaeon Rudolf Steiner School, which has placed a powerful and sustained focus on quality outdoor learning.
In fact, a team of educators from the school recently bagged a NSW Outdoor Education Award in recognition of having the "most outstanding outdoor learning program" in the state's education system.
'A unique and extensive program'
The school's Outdoor Education program runs from Class 4 through to Year 12 and aims to "prepare students to overcome adversity, work alongside others, provide meaningful experiences and become comfortable in the natural environment".
"Those in the Glenaeon community will all appreciate how outstanding the Glenaeon program is in practice, but to have this publicly acknowledged by the peak body of Outdoor Education professionals in NSW is a great honour," Head of School, Andrew Hill, said.
Hill also lauded the program's coordinator, Scott Williams, who has overseen the design and implementation of the program over the past eight years.
"The award is testament to his professional skill, vision and personal commitment to the students of Glenaeon in outdoor environments," he said.
The school prides itself on building skills in adventure activities that enable students to complete major journey-based expeditions in the senior years.
There is a particular focus on walking from Class 4 all the way to Year 10, when all students in Year 10 complete the famous Overland Track in Tasmania. By Year 12, the five-day solo camp is the culmination of the school's active wilderness program.
The main component of the Year 12 solo camp for the students is spending 30 hours by themselves in the bush. This experience requires both mental and practical independence and provides wonderful preparation for participating in society in a resourceful way.
'More play will save our schools' – expert
In his new book, titled 'Let the Children Play', Finnish educator, author and scholar, Pasi Sahlberg, argues that "more play will save our schools and help children thrive".
"Educators and paediatricians both agree that play is important for children's development and learning," Sahlberg told The Educator.
However, he pointed out that teaching and learning have been heading in the opposite direction: more pressure on effort and achievement for both teachers and students, longer school days and more homework.
"One reason why this is happening in so many places may be what I call the Global Education Reform Movement that is driven by the market logic of completion and choice, standardised solution, and faith in improvement by measuring all possible elements in education," he said.
"When outcomes don't seem to improve, the problem is believed to be in inappropriate implementation of this logic. More play has rarely been an alternative remedy for disappointing results."