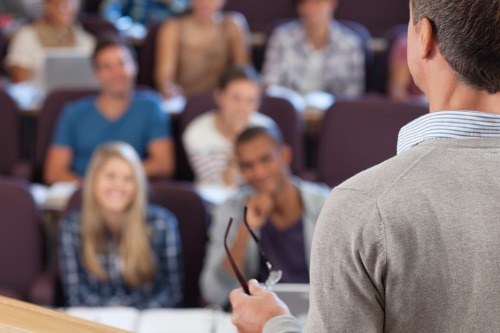 Universities have a long history of engaging with their local communities to solve real-world problems.
Whether through collaborations with private sector organisations or governments, universities are playing a key role in bringing about positive change in their communities.
Many of the projects that universities undertake focus on helping the environment or tackling health-related issues in society.
Last week, RMIT graduate Ryan Tilley won the Australian leg of the James Dyson Award for his design Gecko Traxx, a wheelchair accessory which allows its users to go through various terrains – from sand to snow – with ease.
The accolade, which seeks out the best innovative ideas from engineers and designers, also awarded two UNSW students second place for their health and environment-related projects.
Frédérique Sunstrum's was named a national runner-up for Continuity, a non-invasive diabetic device.
Sunstrum's design comes in two parts: an earring-like device which monitors glucose levels 24/7, and a handheld inhaler which will deliver pre-dosed insulin. These devices are linked through an app which also sends information to healthcare professionals and family members.
Another UNSW alumnus, Alexander Ghent, was also hailed as a runner-up in the Award for his washing machine filter system, "Eddy", which can be retrofitted to any washing machine and prevent microplastics and other synthetic fibers from reaching the oceans.
Direct partnerships with the community
This year, the Queensland University of Technology's (QUT) Creative Industries School of Design launched its Impact Lab: Design for Social Impact, a program which links students with Brisbane community groups.
The Impact lab: Design for Social Impact is an all-of-school first-year program which allows students' designs to be used by their paired community organisation to develop real-world solutions.
"Designers need to be able to communicate with clients, to be empathetic to their needs, and understand the briefs that they are provided," Dean Brough, School of Design Academic Program Director, said.
"So, it is also about equipping students right from the start of their degrees with those skills, and also other skills, such as teamwork."
In its first year, over 650 students from various disciplines broken into different groups teamed up with six community and charitable partners ranging from promoting men's mental health and other disabilities to supporting young mothers and the homeless.
The output was equally diverse: some 124 of the ideas presented come in the form of apps, games, portable structures from recycled materials, face-to-face workshops, online training modules and even a solar-powered charging station.
Red Frogs Australia – a non-profit group on supporting and protecting the youth – received a number of designs from QUT students, such as a biodegradable cup which can deter drink spiking, a pinball machine which can collect donations, and an interactive billboard that can provide a virtual experience of a Red Frogs volunteer.
"It was wonderful to see the array of designs, and also to hear that the students knew about Red Frogs and many had engaged with our volunteers," Red Frogs Australia communications and marketing manager, Bek Gilchrist, said.
"There's obviously a cost to actioning many of the ideas and we're a not-for-profit, but we will certainly be looking into that. It would be terrific to find sponsors to back some of these great initiatives."
The community partners selected 23 of these pitches to be presented at start-up incubator Fishburner's Brisbane hub.