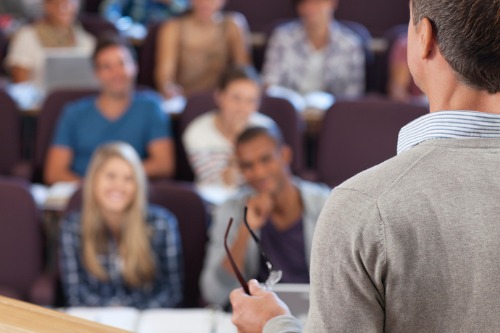 Victoria University (VU) has completely restructured how it teaches students by adopting an Australia-first model of teaching.
VU has become the university in Australia to adopt the 'block model', which aims to reduce the stress of university study by allowing students to complete subjects in 'blocks' rather than all at once.
Vice-Chancellor Professor Peter Dawkins described the change as, "one of the biggest student-centred, staff-led and community-integrated transformation programs ever undertaken in higher education in Australia."
The Block Model has already delivered significant results for Victoria University. Thus far, Victoria University reports the average pass rate has increased from 76% under the previous model still used by most universities around the globe, to 84% with the new system.
The impact has been most profound among students from non-English-speaking backgrounds and Indigenous Australians – up 14 and 19%, respectively.
Michael Sturmey is Associate Director – Digital Learning Environments at VU – said that while universities have used learning management systems for many years now, they've tended to have only been used as a "repository of data."
"It wasn't really focused on learning and teaching, more on where staff and students could get their documents," Sturmey told The Educator.
"Victoria University has been using Brightspace as an LMS for eight years now, but our standards around using it as a teaching and learning tool were not consistently adopted and this needed to change."
Sturmey said that Brightspace has turned technology into an "integrated component" of the learning experience for VU's students, educators and staff.
"The abundance of tools it provides allowed us to establish a fully-integrated blended learning culture built on customised courses and more meaningful engagements at all touch points," he said.
"The platform Block Model has given us the ability to provide active and collaborative learning, with smaller class sizes and a future without didactic and exam-heavy courses."
'Multitasking doesn't necessarily work'
Contrary to popular belief, says Sturmey, evidence shows multitasking doesn't necessarily help improve student outcomes.
"Why have we for hundreds of years expected students to study four things at once? It doesn't make any logical sense," he said.
"Academics are essentially competing with one another for students' time over those twelve weeks. They don't necessarily talk to one another, and students often end up with assignments due on in the same week for four different subjects."
Sturmey said the Block Model frees up more time for academics while providing students with a less stressful way of learning.
However, not all academics are convinced the Block Model is the right way to go. Sturmey said one argument in favour of multitasking is that it prepares students for "real life" but in reality students already have a multitude of things to manage including work and a social life
"I spoke to one academic who was adamant the Block Model would not work for his subject. However, at the end of running his first block, he was completely converted," he said.
"What he'd found was that while the student assessments were harder than they were last year in a twelve-week scenario, retention and grade distribution had improved."
Sturmey said other universities could do well to consider the model as it has already shown a strong track record of success in universities in Sweden, Canada and the US.
"This really is a game-changer in terms of helping universities overcome the traditional pitfalls of student stress and staff's administrative workloads," he said.
"Over the last year, myself and many senior executives at VU have been asked to visit other universities and conferences across Australia to discuss the impact of the Block Model. I think we'll see other universities introduce this model for their first-year students over the next couple of years."
Mark Yaxley, Director Australia and New Zealand at D2L, said Brightspace serves as the framework through which Victoria University can build and deliver its Block Model for teaching.
"It's a flexible platform that can be tailored to the unique requirements of the university, and very easily adapted as those needs evolve," Yaxley told The Educator.
Yaxley added that through Brightspace, VU ensures quality and consistency across its courses – including a comprehensive experience on mobile devices – while making it faster and easier to develop curricula.
"This helps lecturers focus on engaging and supporting students through each unit," he said.