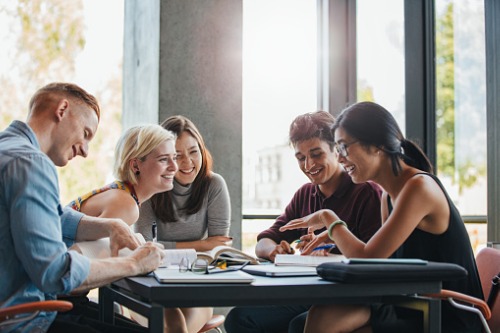 While less Australians are going overseas to study, the Federal Government is encouraging students to go abroad to further their education.
The New Colombo Plan Mobility Program provides funding to Australian universities and consortia to support undergraduate students to participate in academic activities across 40 host locations in the Indo-Pacific region.
The aim of the initiative is to deepen not only partnerships but also Australian students' knowledge of the region.
Prior to the NCP program, many universities were already working on sending their students to foreign universities for this reason.
In 2012, the Group of Eight struck a partnership with C9 League – a group made up of nine of China's most prestigious universities as selected by its government – to promote student mobility among the institutions.
This is despite the stark contrast in taking care of international students struggling to fit in at Australian universities.
Michael Wesley, a professor at Australia National University's College of Asia and the Pacific, commented as early as 2011 in his book "There Goes the Neighbourhood" that Australia had been told to prepare for the so-called "Asian Century" for decades, but that it had failed to do so.
But through the NCP program, Australia seems poised to catch up.
The program grants $1,000 to $3,000 worth of subsidies to fund short-term projects for undergraduate students. For semester-length project, subsidies can go as high as $5,000 to $7,000.
For next year's and early 2021's NCP mobility program, over 300 students from the Queensland University of Technology (QUT) will participate in 17 mobility projects ranging from arts to health in Cambodia, Fiji, Hong Kong, Indonesia, Malaysia, Taiwan, Thailand and Vietnam.
The new NCP funding will be granting QUT some $764,000 to cover 228 students who will be taking part in the projects. Another $447,150 will also be granted for 86 students who are still working on eight continuing programs.
"A number of the successful mobility projects are new projects which will run for the first time in 2020. It's exciting to see a diverse range of international opportunities for QUT students," QUT International executive director Paul Bolt said.
"This success would not be possible without the support of passionate project leaders from across all faculties, who through their connections and network, create these opportunities for students to enrich their learning and develop their cross-cultural skills."
Highlighted projects
Twelve Creative Industries students who will be sent to Papua New Guinea will partner with Kafe Urban Settlers Women's Association and University of Goroka's School of Humanities.
The students are expected to develop their cross-cultural empathy, collaboration and communication, also learning about PNG's history, society and culture.
Another 12 QUT journalism majors will be sent to Fiji, where they will work with the University of South Pacific. These students will be looking into and reporting the state of development and happiness in Fiji amid the island nation's economic challenges.
Additionally, 20 students involved in various health disciplines will participate in a two-week program which will expose them to the culture of the provision of healthcare services in Malaysia. This will enable them to compare the state of healthcare services of the Southeast Asian nation to those in Australia.