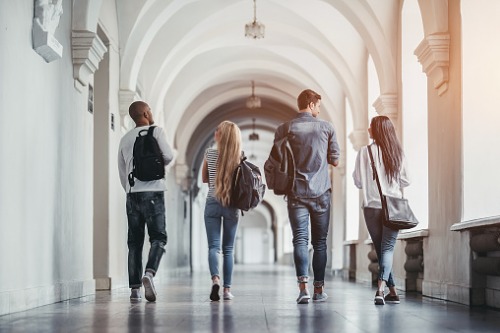 Universities and schools are set for a major shake-up after the Federal Government and the states and territories struck an agreement at the recent Education Council meeting.
The Alice Springs (Mparntwe) Education Declaration, announced on Wednesday, sets out two goals: that the Australian education system promotes excellence and equity and that All young Australians become confident and creative individuals, successful lifelong learners, and active and informed members of the community.
Federal Education Minister Dan Tehan said the entire Australian Curriculum will now be "fast-tracked" so that work could begin on improving the country's teaching and learning outcomes.
"Australia's education system has been given a fresh set of guiding principles with a new education declaration endorsed by all education ministers," Minister Tehan said.
"Education is now a continuous journey that begins at birth and doesn't stop at the end of high school or after university graduation".
For Australia's higher education sector, the Declaration has some important benefits.
The most recent OECD Teaching and Learning International Survey found that many Australian teaching graduates are leaving university ill-equipped for the classroom and are not as ready as their OECD peers.
However, it is hoped that the newly announced changes will change this.
The new reforms mean that teaching of phonics and reading instruction will now be made mandatory for initial teacher education (ITE) courses.
Teachers will also be given more time to undertake the courses as part of their training.
John Munro, Professor at the Australian Catholic University's School of Education, said that while commentators have argued that Australia need higher quality teaching, the problem is more complex than this.
"PISA-type tasks assess how well students can use their knowledge in reading, maths and science to solve problems. The skills assessed are perceived as essential Twenty First Century skills," Professor Munro told The Educator.
"A major problem that the commentary has missed so far is how the Australian culture sees and values knowledge".
Professor Munro said the countries that do better than us in PISA "see knowledge as something to be valued".
"It is a pathway to a better future. The students in those countries learn this attitude. They take it to school, and it shapes how they see and value the school experience," he said.
Sandra Milligan, director and enterprise professor at the Assessment Research Centre at the University of Melbourne's Graduate School of Education (MGSE) said that while the PISA 2018 report revealed that student outcomes are in decline, "the report itself is subject to scathing criticism by academics and other experts".
"Australia's own NAPLAN, which has us flatlining in literacy and numeracy, has been controversial since its introduction in 2008, has been reviewed several times and is now being officially reviewed again," Professor Milligan said.
"These reviews and controversies often miss a central point. The problem is not in the tests but in the strategy to which the tests belong".
According to Professor Milligan, the underlying strategy was never very good.
"It has clearly failed even in its own narrow terms and is now, in significant part, obsolete as well. Among the many substantial reforms now needed in schooling is a root-and-branch reform of our assessment regime," she said.
Professor Milligan said the latest review of NAPLAN promises that "nothing is off the table, and this is to be applauded".
"It is a good time to conduct a national discussion about assessment strategy as extensive as schooling's purposes and effects, not as narrow as a few standardised tests," she said.
"We need to assess what we value, not just value what we assess".