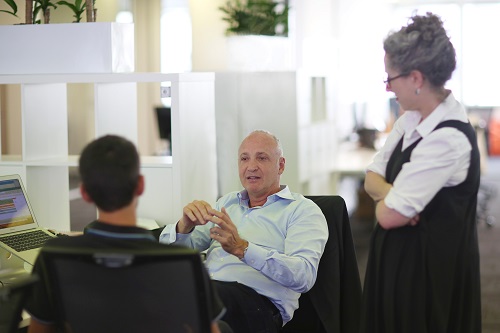 There are 3.85 million school students in Australia and approximately 20% currently use tutoring services, with a further 20% actively considering it.
While tutoring is commonplace in schools, it's not easy for one teacher to tailor learning to every child's specific needs, prior knowledge, and interests.
Recognising this, a team of visionaries and educators founded Cluey Learning, an online tutoring start-up aimed at helping children in every corner of Australia access personalised learning.
The organisation was established by Quartet Ventures — the investment house of Sam Linz, Robert Gavshon and Mark Rohald, who have founded and sold some of Australia's most notable businesses, including Oporto, Rebel, Barbeques Galore, Open Colleges and Think Education.
Cluey uses an online learning platform with fully integrated video and audio, virtual whiteboard, digital content and AI to enable students anywhere in Australia to access a tutoring experience tailored to their needs. Learning analytics support the expert private tutor in delivering a fully adaptive learning program that is in line with the Australian curriculum.
Standing out from the rest
Mark Rohald, Cluey's chief executive, said the company differentiates itself from other tutoring platforms through its fully-integrated video, audio, virtual whiteboard, collaboration and diagnostic tools.
"Cluey addresses individual student needs by integrating one-on-one live online tutoring with an adaptive learning platform that delivers customised learning plans, content, feedback and outcomes," Rohald told The Educator.
"Our comprehensive digital content is aligned with Australian National and State syllabi and we use learning data and analytics to ensure we focus on what's most relevant to improving academic achievement."
Rohald said all of Cluey's tutors are company employees, "trained and quality assured", adding that learning sessions are recorded and available for revision and quality assurance.
According to Rohald, the traditional school model imposes constraints that limit the opportunity for teachers to focus on individual student learning.
"Effective teaching and learning should be targeted to each student's needs. Students and parents are looking to augment their school learning, but current options are limited," he said.
"Private tutors or learning centres vary significantly in terms of quality, accessibility and value."
Rohald said attempts to augment the learning using textbooks, videos, educational games or internet searches are "sub-optimal".
"Cluey delivers a range of support mechanisms that power individual learning and growth. By delivering targeted online learning aligned to the syllabus, Cluey optimises educational outcomes and delivers real value," he said.
Rohald said the company's accessible market represents approximately 1.65 million students.
"Over time, we believe we can achieve between 5% and 10% market share," he said.
"Being an online service, our students are located across Australia, and currently come from more than 695 schools."
'An unparalleled opportunity to support students'
At Cluey, Dr Selina Samuels is responsible for the overall faculty leadership with a core focus on implementing educational best practice innovation. She has held the roles of Head of English, Academic Programs and Professional Development at Ascham School in Sydney and worked as a Lecturer and Adjunct Senior Lecturer at various universities in Australia and the UK.
After years of working in and consulting to schools in many different jurisdictions, Dr Samuels was eager to explore the use of technology to address issues around the provision of personalised learning.
"There is extensive research to support the value of one-on-one and small group tuition and the scope for individualised feedback," Dr Samuels told The Educator.
"I was interested to see how such a system would sit alongside the school environment to enrich each student's learning experience."
Dr Samuels said that through working at Cluey, she has greater insight into the learning process than she has ever had before.
"This means that we have an unparalleled opportunity to support each student and develop each tutor," she said.
Dr Samuels says educational best practice requires principals to balance the complex social structure which is the school, with the need to nurture each individual student and teacher.
"With the pressure on schools to satisfy multiple stakeholders and external performance measures, such as the HSC, principals need to acknowledge and advocate for the importance of individual student goals and progress," she said.
"It is important that the political debates around education do not distract educators from the keystones of learning: responding to each student as an individual, providing them with targeted support and feedback for learning, and developing their confidence and self-efficacy."
Where students are wanting help
Dr Samuels said that among Cluey's younger students, there is strong demand for foundational literacy and numeracy skills.
"Even in our older students, we find that there are gaps in their knowledge that require precise strategies, such as reading comprehension," she said.
Dr Samuels said there is wide-ranging interest in learning how to write effectively, from persuasive and creative writing to essay writing.
"Equally, we have a large number of students enrolled in problem-solving Maths programs that support their ability to apply their mathematical knowledge and develop their logic," Dr Samuels said.
"Our programs are designed to complement what students are studying at school. We therefore embed the skills they need to develop into the content that they are required to know."