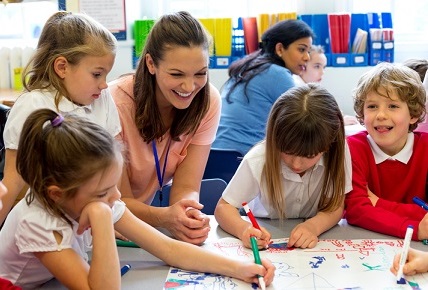 In the wake of the Royal Commission's Creating child safe institutions report, school administrators have been encouraged to implement strong risk management strategies to identify, prevent, and handle threats that might affect children on school grounds.
The report suggests schools adopt a comprehensive sign-in and sign-out procedure to help keep students and other stakeholders safe.
David Cooper, sales manager at Upstream Solutions, a Fuji Xerox company, believes schools can best achieve this by managing visitors, contractors and staff digitally.
"Not having a robust visitor management system in place can mean restricted visibility of who is onsite, limited ability to validate contractor credentials, and inefficient communication tools in case of emergency or lockdown," Cooper told The Educator.
"This can put students, staff and guests at jeopardy, not to mention increase the risk of liability should something go wrong."
Cooper said schools should invest in solutions that responsibly screen visitors entering the premises, such as contractors and volunteers.
"Quality contractor compliance management solutions provide administrators with automatic validation of contractor credentials, insurances, and working with children checks by linking to local or external contractor management systems, so contractors entering school grounds can be marked as trustworthy," he said.
Cooper said digital and automated visitor management solutions can also provide visitors with important induction material about school processes and protocol, give administrators visibility into who is onsite, and help manage contractors' and volunteers' time and attendance, in a digital, easy to use format.
"Schools can dramatically improve students' safety by ensuring visitors and contractors are appropriately qualified and licensed, and can quickly gain this information with connected, digital technologies," Cooper said,
So how can schools navigate this issue in an effective way without it becoming an administrative burden for school staff and principals?
According to Cooper, automated and digital processes eliminate a range of administrative responsibilities and paperwork for school staff and principals.
He said Upstream suggests the following five digital benefits from a visitor management solution for improving school safety, without increasing staff and principal administrative responsibilities:
Contractor compliance validation: Protect the school with automatic validation of contractor credentials in real time including insurances and licenses, by linking to local or external contractor management systems, such as LinkSafe. This gives schools the assurance that that contractors are validated to carry out the work and have been screened for the Working with Children Check (WWCC).
Sign-in/sign-out tracking: Onsite visitors can be managed and monitored while on school grounds using comprehensive, digital visitor sign-in and sign-out technologies. This makes it easier for staff and administrators to effectively track visitors.
Student arrival and departure management: Schools can ensure OH&S compliance by digitally recording student movement, capturing late arrivals and early departures. Schools can subsequently notify parents, guardians, and student services of pupils' movements automatically, via real-time SMS or email alerts, instead of time-consuming phone calls and voice messages.
Teacher visibility: Principals can easily view the location of teachers, with their status updated by swipe card, phone, tablet, or computer, via an online portal. This eliminates the need for principals to physically monitor or track down staff.
Onsite visitor management: Beyond student safety, schools can also use an easy-to-navigate solution to contact onsite visitors in case of emergency. School administrators can issue alerts to and communicate with visitors, all through the click of a button.