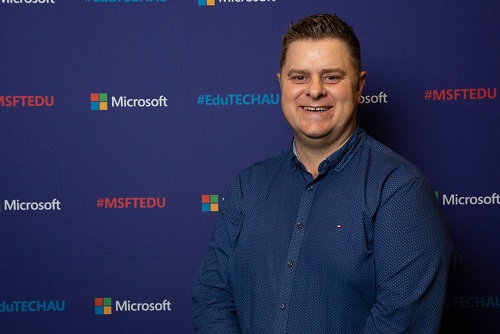 Across Australia and the world, students and teachers are increasingly becoming more aware about how Artificial Intelligence (AI) works and how it can be used to create, collaborate and problem-solve.
A new national competition – the AI for Good Challenge – is encouraging high school students, developers and data scientists to use AI to solve important social and environmental issues.
Microsoft Australia and professional learning organisation, Education Changemakers are asking students in groups of two or three to come up with an AI concept that could make an environmental or societal difference under the categories of AI for Accessibility, Earth or Humanitarian Action.
David Falkner is the CEO and co-founder of Education Changemakers, and a global leader in K-12 education innovation.
He says the challenge has received an "overwhelmingly positive" response from schools across Australia.
"It has been fantastic to see schools from every state and territory get involved in the AI For Good Challenge," Falkner told The Educator.
"There have been hackathons in every state and territory, which have helped students and staff get involved in learning more about AI, and how it can be utilised for good."
One of these ways, says Travis Smith, Microsoft's K-12 spokesperson and academic engagement lead, is a greater understanding of the ethics associated with AI.
"The challenge allows Year 7-12 students to get into a design thinking challenge that will help them learn about AI and the ethics around it," Smith told The Educator.
"Microsoft have a very firm stance on the ethics of AI, so we've ensured that students learn about the different components of ethical considerations that we outline around AI that are really crucial."
Smith said Microsoft is particularly interested in encouraging girls and students who don't think they have a future in technology.
"One challenge we're trying to address is how to leverage students of various talents who might excel in subjects like English, Art or Music and have something valuable to offer in the AI field," he said.
"On the flipside, a student who might have a talent for coding might not necessarily be a divergent lateral thinker who might have the idea that could help solve a given problem."
'AI will amplify how people effect change'
Citing machine learning and the increased power and possibilities around modern computing, Smith said AI will amplify and speed up how people bring about positive change.
"In order to run a computer back in the 70s and 80s you had to understand how to code, but then the interface changed which meant that everyone could understand computers," he said.
"The advent of interfaces like Windows and Mac OS has brought about a design that everyone can work with."
Smith said what society is now seeing with the rise of AI is similar in many ways.
"For example, if you want to look at a set of data about restaurant reviews or parent surveys, you put it in a spreadsheet, add machine learning in from the cloud and then have sentiment analysis done on those statements in about two seconds flat," he said.
"The interesting thing is that the AI and machine learning technology is going to allow more people to use it because of how user-friendly it is becoming."
Smith said students are being encouraged to understand that the technology will not be difficult to use and that it's their ideas that matter the most.
"It's the way that children channel their ideas into making a positive difference to the world and solving a problem," he said.
"One the video snippets we have from one of our hackathons shows how AI can be used to prevent political bias in elections. Other students were talking about the provision of food to those who need it the most, morality, ethical responsibility and environmental solutions."
Smith said no facet of society will be untouched by AI.
"There are some realities associated with that, but it's important not to fall into an alarmist mindset and think that AI will take away everyone's jobs. People thought that when cars and computers were invented," he said.
"There's been version of this in the past. It's not a doomsday outlook. It just means that humans are going to be better at human things and machines will be better at doing the things humans had to do because they weren't machines."
Submissions for the AI for Good Challenge close June 21. The students' ideas will then be assessed by judges who will shortlist the best submissions for state finals held in July, followed by national finals on the August 16.
For more information on the AI for Good Challenge including teacher resources, prizes and information on how you can get involved, visit https://aiforgood.com.au/