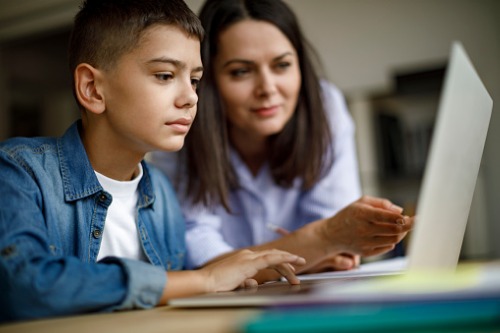 Reports show that by the time children become teenagers, 78% are regularly online and 80% are using a smartphone.
While cyberspace has revolutionised the way that people socialise and do business, the drawbacks of cyberthreats and cyberbullying have presented complex challenges for individuals and organisations, and schools are certainly no exception.
For example, students may underestimate the risks of sharing such information online, particularly with strangers, and they may not realise how difficult it is to remove something from the Internet once it has been posted.
One technology leader who is helping schools navigate these issues is Trent Ray, co-founder of Cyber Safety Project, which was recently announced as the winner of the Microsoft Store My Business Mentor program in 2019.
Built to support passionate small-to-medium business owners and budding entrepreneurs around Australia, the My Business Mentor program saw over 100 ventures considered for a once in a lifetime grant. The grant includes technology and financial advice valued at $15,000 from Microsoft Store Sydney and Australia's leading tax accountants H&R Block.
The Cyber Safety Project helps digital users to understand the importance of staying safe online through the 'why' behind safe digital habits.
During our Cyber Safety Project launch in each community, students engage in an interactive and immersive workshop that harnesses the social media platforms, gaming and tech tools that they know and enjoy.
"This is just the beginning, as we work closely with teachers to equip them with the resources they need to continue the important work back in their classrooms, providing Cyber Safety Project curriculum aligned lessons and activities," Ray told The Educator.
As a result of the new funding, Ray said the Cyber Safety Project will now be able to expand its operations, reaching even more schools and empowering young people to be safe and responsible when using technologies.
"This expansion will also apply to our engagement with teachers and parents to ensure that they're prepped with tools and resources to create safe environments at school and home," he said.
"We believe that when equipped with the skills and strategies to stay safe online, young people feel empowered and confident to independently navigate technology safely and responsibly."
Ray said the organisation's approach is about being proactive rather than reactive, by starting the conversations from an early age.
Principals can spark 'powerful conversations'
For school leaders who find navigating challenges associated with improving cyber safety in their schools, Ray says it's important to realise they're not alone.
"Technology outside of the school context is vastly different and is an everchanging landscape. Anyone who works with young people today must be attuned to the current issues and challenges of living, learning and playing online," he said.
"Spending time listening and learning about how young people in your community are engaging with digital platforms is the most powerful strategy you can employ in driving better cyber safety in your school."
Ray said engaging staff in this practice is key too, "because knowledge is power".
"We find that every school community that we support has its unique challenges. By hosting forums and surveying students you will gain important insights into their current digital habits," he said.
Ray said that understanding and sharing these insights with the school community (including students and parents) will spark questions, promoting "powerful conversations".
"These discussions allow for the creation of purposeful programs catered to the safety and wellbeing needs of your school community," he said.