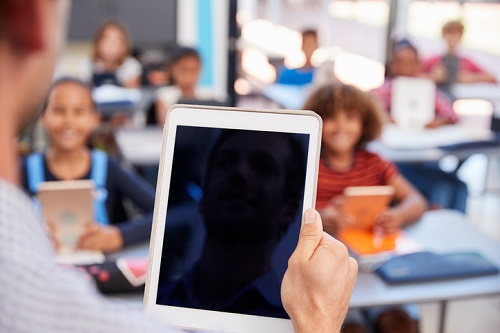 Technology and the rapid digitalisation of a number of roles demands that schools teach students new skills so they can qualify for future jobs.
However, the use of technology in classrooms remains a highly contentious issue.
A recent example is the controversy surrounding moves to ban students from using their mobile phones during class time.
However, the use of technology can often make it easier for teachers to deliver their lessons – and it can improve student outcomes if done right.
Cutting through the hassle
Dalby's Our Lady of the Southern Cross College – which was formed from the unification of St Columba's and St Mary's in 2008 – upgraded its classrooms six months ago with Japanese firm Ricoh's state-of-the-art interactive whiteboards (IWB) in a bid to digitally enhance its curriculum.
The College, a Visible Learning Lighthouse School, has been using Ricoh's technology since 2018. Housing some 560 students from Prep to Year 12, the school installed 40 Ricoh IWBs worth around $1m.
These IWBs, which boost student-teacher collaboration, are connected to a Learning Management System (LMS) which allows students to access the lessons and resources from their laptops, regardless of their location.
Through the IWB, teachers and students can edit, print and even send documents online.
How IWBs are helping educators
Prior to the switch to IWBs, Dalby's classrooms were fitted with poorly-installed devices which would often cause the College to experience connectivity issues.
College principal, Peter Cuskelly, said that while they have always supported smart board technology, the technical problems experienced from these devices led to teachers doubting their usefulness.
"The smartboard idea broke down, as many of our previous devices were becoming unusable, but we still wanted to bridge the technology gap, to enhance student learning and support our teachers," Cuskelly said.
"We realised we needed to re-evaluate our strategy and determine whether we had the best technology mix."
Prior to having Ricoh's IWB installed, the College had sent teachers to test out the boards.
"We were looking to invest a significant sum on infrastructure and we wanted to make sure we had the best technology for an eight to 10-year period," Cuskelly said.
Within a span of a few months, the College noticed the changes that IWB had brought into its classrooms – from teachers no longer needing to carry their own laptops or teaching materials to making it easier for them to catch up on missed lessons.
The use of IWB also made it easier for teachers to revise for assessments.
Cuskelly said that the new technology helped their teachers better prepare for their classes – one of the biggest issues raised by educators as the profession continues to deal with red tape.
The use of IWB also makes the learning resources more easily-available to students through the LMS, explained Cuskelly.
"It (LMS) gives them the ability to read through lessons, focus on the most pertinent aspects and spend time improving their capabilities. In turn, we'd expect their results to continue to improve," Cuskelly said.
"The Ricoh IWBs make life so easy for everyone – we've enjoyed an outstanding outcome, for our students, teachers and the College in general."