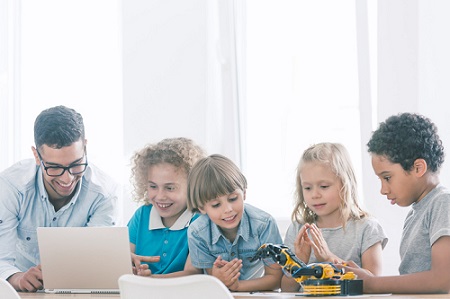 Research shows that digital economy jobs are growing 10 percentage points faster than all other jobs and that by 2030, more than 90% of Australia's workforce will be either using, configuring or building digital technology at work.
To address this, an initiative is helping young Australian students develop a combination of STEM and entrepreneurial skills through a twelve-week virtual learning experience involving eight schools in regional and rural areas across Australia.
NBN Co's annual STEM program – nbn™ 'STEMpreneur' – is being delivered in partnership with the ABCN and is working with robotics expert as an ambassador for STEMpreneur, Marita Cheng.
The course will equip students with the basics of human-centered design thinking to complement the average STEM-focused curriculum. Lessons are designed to reinforce the idea of empathy in the STEM workplace, helping students operate under a 'problem first, solution second' mentality.
Below, The Educator speaks to Cheng to find out more.
TE: Can you tell us about how the STEMpreneur program initially came about?
MC: STEMpreneur is a twist on an existing community initiative NBN Co has been running in local schools to help students engage with STEM learning. You always hear so much about the importance of STEM education and entrepreneurship to our nation's future prosperity, but they're often talked about separately. The idea of STEMpreneur was to bring these two ideas together and tap in the entrepreneurial spirit of young students to help them develop these critical future skills.
TE: In what ways specifically will the program help students prepare for the world of work in a practical way?
MC: The program offers a collaborative, virtual learning experience, where each school or team creates a real business idea. The business idea must use technology to help solve a social problem in their local community. Throughout the project the kids will build up STEM knowledge and flex their creative and entrepreneurial muscles, all in the name of a positive social change.
TE: Are there any aspects of the program you feel are particularly valuable to school leaders? If so, what are they?
MC: I think it's all about opening up the opportunities available to students through technology. I know from personal experience, developments in technology and growing connectivity mean the jobs and businesses of today, and the future, will be vastly different to what they have been in the past. Infrastructure like the nbn™ broadband access network is enabling businesses, and opening up new education opportunities for children across the country, wherever they may live.