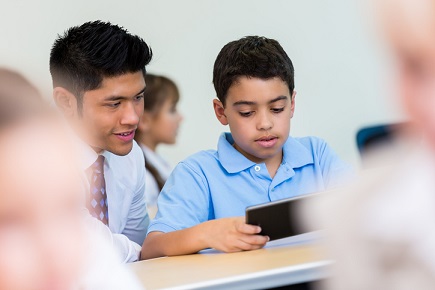 While the focus on Augmented Reality (AR), machine learning and coding is being touted as a way to help students prepare for the jobs of the future, one school is harnessing the power of technology to teach children about environmental sustainability.
Berwick Lodge Primary School's Forest Garden bridging curriculum program began in 2013 following a partnership with Deakin University and has evolved into an innovative platform of multi-sensory learning that uses immersive technology and AR to engage students aged 4-6.
Using hand-held technology, such as iPads and tablet devices, students engage with their learning via an AR-capable app and book, titled: 'Hettie and Harry's Forest Adventure'.
The book, written and produced by the developers of the Forest Classroom program – principal Henry Grossek, Liz Frances Symonds, Manjeet Singh Usma and Rob Kelly – includes a range of accompanying lesson plans, visual and auditory resources and engaging real-world activities for educators, teachers and parents.
"When we started, our school didn't have much of a catchment area, traffic was congested, and we had a superficial relationship with the schools around us. We also found that students were coming to primary school disengaged," Grossek recently told principals gathered at the Educator Leaders' Summit in Melbourne.
"We cooked up an idea called the bridging curriculum which was about trying to better connect kindergarten kids with primary school. Schools are doing this every day now, but this can be done in different ways and at different levels of depth."
At the same time, said Grossek, the school noticed a trend both in his school and systemically of children entering the primary level disengaged.
"We found that children were disengaged at varying levels, but they were not decreasing," he said.
"So, we started introducing programs such as free P&P for kindergarten kids, whether they came to our school or not, because the feedback was that there's something in this digital world that kids are not doing enough of. We also pushed ahead with our reading programs to get connections up."
The school ramped this up by inviting several authors into the schools to discuss how to improve student engagement.
"This process was about embedding the tapestry of our school with the technology. Our school logo is the Helmeted Honeyeater, which is an endangered species, and we're an ambassador school for that," he explained.
Grossek said that while Forest Classroom began with the aim of enhancing the transition for children from Kindergarten to Primary, there are many more powerful moving parts to the initiative.
"This is about saving the environment and protecting endangered species," he said.
"The issues of the day have to be the issues of education one way or another. It's not about preaching or brainwashing, it's about being in sync."