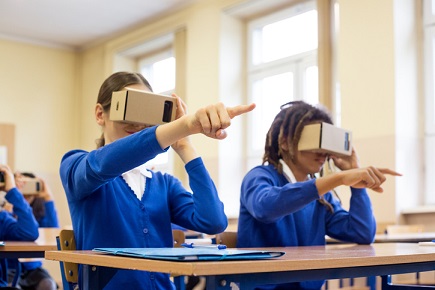 What the future of schooling might look like can range from dystopian to utopian depending on which education thought leaders one asks, but a recent conference invited students to do some future-gazing of their own.
In August, MYOB and i-Manifest hosted the three-day School of Future Tech event in Sydney CBD, which brought together 30 students aged 14-18 together with some of the leading tech brains in Australia.
Students worked in teams, learning about topics including robotics, AI, interactive and digital art and VR and augmented reality.
Some of the tools and devices they used included Google home, Google cardboard, Samsung VR headsets and Chat bots.
Keran McKenzie, Resident Futurist at MYOB, told
The Educator
that the event was an opportunity for the next generation of high school students to experience the latest in technology and share their thoughts about what the future might look like.
"MYOB's role was as a corporate sponsor. We are helping fund it and providing mentors to come along and spend time with the students to inspire them but also to learn from them," McKenzie said.
"We held a roundtable where students stood up and shared some take-aways from the event. Some students said they were inspired by the VR headsets, which they hadn't used before, while others shared their views on design thinking."
He said that it didn't take long for the participating students, who were from various schools, to begin sharing ideas with each other about how the technology could be used for innovative educational purposes.
"There was even one student who stood up and used the term 'holacracy', which refers to self-management practice for organisations," McKenzie said.
"It was amazing to see a 16 or 17-year-old kid talk about these concepts, and it makes you wonder what their business is going to look like."
McKenzie said that while the challenges of an automated workforce might be concerning to some, schools are doing a good job in providing the relevant skills that students will need once they leave school.
He said that overall, students were more inspired than worried about the impact of AI and robotics on the workplaces of the future.
"It's encouraging that schools are embracing programs like Code for Australia, Moonhack and iManifest, which are supporting teachers, parents and kids to explore the world of tomorrow alongside the core subjects like maths, science and English," he said.
"It's also great to see companies helping kids craft a better tomorrow beyond jut a branding or sponsorship involvement."
Related stories:
How technology is simplifying school fee payments
Program helps students build STEM skills